BTW 2013: Week 1
Click on any of the photos for a bigger version
Before We Start
The Chevy Captiva we rented

We are in California in the town of Cupertino. Actually next to Apple's HQ :). We rented a car in Sunnyvale - actually we got a good SUV, the Chevy Captiva for an excellent price from Enterprise Rent A Car. We highly recommend their office on El Camino Real in Sunnyvale. The SUV made our life a bit more comfortable - it has tons of space and very comfortable. The only down side for this car we felt was, it ate up a bit too much of gas :). Well you cant everything eh?
May 4, 2013
Hey Folks, BTW starts!! We finally hit the road. We are stocked with everything we need for the road. We have published our packing list elsewhere. Asha Bhosle did the honours of crooning us on the road to start with. We are traveling with a lot of mmusic by the way. Our starting point is the San Francisco Bay Area (we were staying with Kishore the last few days) more specifically the city of Cupertino.
Arnav studies the write up on Kings Canyon
that is seen beyond in the background
Our initial few days will be spent exploring the Kings Canyon and Sequoia National Parks. We drive west on route 180 to get there. We drove into Kings Canyon by around 2pm. It is indeed a beautiful drive. These two National Parks - Kings Canyon and Sequoia are situated next to each other spread over a large area in South Eastern California. Our first stop of the day was at the visitor's center approached via the west enterance on route 180 - called the Grant Goove visitor center. The ranger there helped us with information. With a coffee cruising through our veins we headed to Kings Canyon.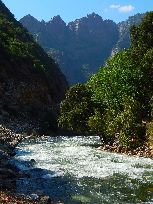 The Kings river carves the canyon out of the tall hills
Kings Canyon is a smaller version of the Grand Canyon. It is carved by many rivers - the primary one being the Kings river. Since it is spring now, it was flowing and very turbulent. As it snakes around in the canyon, it creates a lot of roaring falls at many places. The road through the canyon itself is very curvy and and scenic to drive. The falls along the way make awesome scenic spots. One of the falls that we drove and then hiked to was the Mist Falls. Route 180 terminates at this falls. After this hike we were back on the road heading back on route 180 in the other direction.
Arnav strikes a pose next to the river
We had planned to do only the canyon for today. So though we drove through the Sequoia national forest, we did not stop at any of the places. We drove down route 190 to a place called Three Rivers where we had booked a nice place called the Western Holiday lodge. This is run by a Bangladeshi couple. It has a nice play area, a picnic area and provides hot continental breakfast. What else one would expect in these remote places? We liked it so much that we stayed for another day (since the next day we were going back to Sequoia any way). We cooked dinner at the hotel, our rice cooker coming in very handy.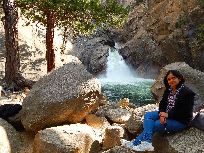 Deepa is impressed by the Mist Falls at Kings Canyon
The Kings Canyon walls tower over our car - its a beautiful drive
| | |
| --- | --- |
| Today was: | May 4th 2013 |
| Day Number: | 1 |
| Approximate Miles Travelled: | 350 |
| Region Travelling in: | South Eastern California / Kings Canyon |
| Petrol: | $40 |
---
May 5, 2013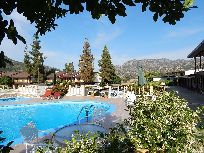 The Western Lodge is turning out to be good!
We wake up to a bright and crisp morning at the Western Lodge. Since we have decided to stay another night here, it is that much easier since in the evening today we dont need to find another hotel. The stay at the hotel is turning out to be good and more over very comfortable.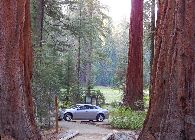 A car parked amidst the giant Sequoias gives an idea of scale
Today's main course for the day is to explore the Sequoia National Park. Sequoia is the name of a tree, in fact a giant tree. Some of the sequoias here are as much as 2000 years old. And this forest obviously also boasts of some of the largest trees in the world. Our first stop for the day was the Lodgepole visitor center. This is a neat place that shows an orientation film about the Sequoias. Our next stop was at the Wuksatchi lodge. This is a trendy old place - remodelled to suit modern day needs. Its in a beautiful setting. From here we went on a hike that explores one of the local streams (the twin lakes trail). Some of the views along were breath taking. The air was mildly cold and very pleasant.
Coming back up from the hike, we then went to the Forest of Giants - this is the place where the famous General Sherman tree is situated. Before we went ahead, we had a quick sandwich lunch. There was a ranger program at the base of General Sherman at 2pm. We were in time for that. We did the half a mile hike to the three - it is a sight to behold. In fact the Forest of the Giants and the associated trails around is an amazing place. We see some of the biggest trees here and added to it is the natural beauty of the forest.
By the time we were done with both the hikes, we were cold and tired. We came back to the warmth of the car and enjoyed the rest of the park on the roads.
A road meanders in the giants forest
A gentle bridge behind the Wuksatchi Lodge
General Sherman is the biggest tree on earth!!
Deepa and Arnav walk throught the Forest of Giants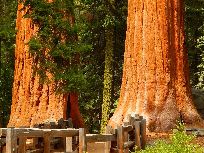 Really a forest of giants!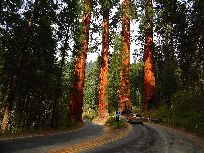 A car drives amongst the high redwood trees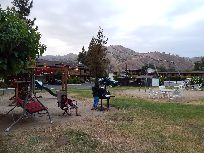 Play and cook dinner at the hotel picnic area :)
| | |
| --- | --- |
| Today was: | May 5th 2013 |
| Day Number: | 2 |
| Approximate Miles Travelled: | 150 |
| Region Travelling in: | Sequoia National Park |
| Petrol: | $15 |
---
May 6, 2013
CA Route 395 goes through some desert flat lands
So that was the amazing Sequoia national park. Whenever one travels in the forest of giants, one sees how small the human is - both in terms of size and life span. With that humbling feeling we are headed into a new day. After breakfast our journey today headed eastward. We drove over the route 155 that traverses the Alta Sierra range. This is one small road with almost no traffic and quaint old towns. We selected this route because the alternative and faster interstate was under a huge rain storm. After crossing over the sierra mountains, we skimmed over Lake Isabella where we had our lunch.
The Olancha RV park is an oasis in the desert
Deepa and Arnav cooking dinner!!
Eventually we entered the rain shadow desert area. Here the route 395 traverses across the north and south. Our goal for the day was to get as close to Death Valley National Park as possible. Towards late afternoon we reached the town of Olancha which is about 50 miles west of Death Valley.
We found that the Olancha RV park had some great cabins. Although it did not look great from outside, inside it was excellent. Since we had reached early (and remember it does not get dark here until 8pm or so) we had some great time to play ball and cook our dinner. We cooked peas usal, moog sambar and rice. We thought the cabin was so remote that we would not get much to do there, but wait we have internet access even here!!! That was the last thing we expected here. Anyway, that marks the end of another great day.
| | |
| --- | --- |
| Today was: | May 6th 2013 |
| Day Number: | 3 |
| Approximate Miles Travelled: | 300 |
| Region Travelling in: | Eastern California |
| Petrol: | $57 |
---
May 7, 2013
Its Om's birthday. We called him in the morning, but missed him before he went to school. Breakfast today was Matar Poha cooked with all love and goodness by Deepa on our beloved stove! Add to it Coffee with biscuits and some cuties later. Cuties are small bite sized oranges with no seeds and the the fibrous threads. We were impressed with the cabin at the Olancha RV park. It did not look so good from outside. We had fridge, a microwave and the works.
From Olancha we headed out east into the Death Valley National Park with Deepa at the wheel. Route 190 is like the main artery going in and out of Death Valley NP. If you have not heard about Death Valley its a good idea to read about it here. It was an interesting sight today - many people were letting Deepa go ahead by getting their vehicles on to the side turns. Beware of Deepa driving her SUV!!!
Coyotes are one of the dwellers of the desert in DVNP
in the middle of the Death Valley
Death Valley there is some real desolate territory
in the middle of the Death Valley

Another interesting experience we had was the Dip in the road. As you enter the DVNP from the west on 190 there are a couple of places where the highway suddenly behaves like a roller coaster. The first time we went through those dips it was really elecrtifying. Our stomachs were almost in our mouths - Arnav went one better and said his feet were in his mouth!!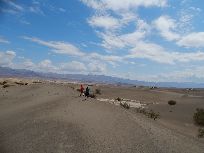 The sand dunes here are vast and its fun to explore
Our first stop in DVNP was at the Stovepipe wells for some coffee. This is a small place with a nice inn at the center. The most popular to thing to do here is the hike to the local Sand dunes. We spent a couple of hours running up and down the sand dunes. It was major fun. After this we drove down further south for lunch at Furnace Creek Ranch. Oh man we were hungry. This ranch is one awesome place - a true oasis in the DVNP desert. We had one heck of a lunch at this place. A veggie burger and a quesadilla were the main attractions. The Furnace Creek inn - also managed by the same company - is also close by and on the day we visited this place it clocked at $ 381 for the night's stay!!! We obviously did not stay there :).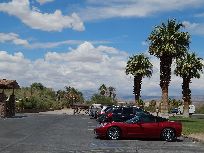 The Furnace Creek is an oasis
in the middle of the Death Valley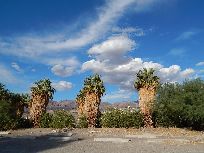 Furnace Creek
After the lunch we cooled it off at the visitor's center for an hour or so. The heat had gone to close to 90 deg F. Later in the afternoon we drove further south and did another hike, this time to the natural bridge. Its a nice mile and half to get there. After seeing the natural bridge, we drove to the southern most point we wanted to visit - the Badwater Basin. This is the lowest point in norther america. It is around 290 feet below sea level. After that we headed back north, drove via the Artist's Drive. This drive takes us through various coloured formations - pretty scenic and well worth the time spent. Our next stop was for the Golden Canyon hike. This is a 5 mile hike if you want to do the whole thing, but we turned around after seeing the badlands.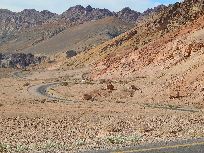 Artist's Drive is a scenic offshoot in DVNP
As you can see in all we had a great day today. DVNP is by far the largest national park in the contiguous USA. Its vast, varied, beautiful and enjoyable. Most points here are tens of miles apart from each other. That was today and then we drove up to Beatty in Nevada for the night's stay at Motel 6.
| | |
| --- | --- |
| Today was: | May 7th 2013 |
| Day Number: | 4 |
| Approximate Miles Travelled: | 200 |
| Region Travelling in: | Death Valley National Park |
| Petrol: | $0 |
---
May 8, 2013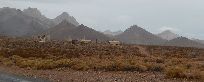 A view of Rhyolite: the ghost town
Today we started from Beatty, NV and was mostly a driving day. Our stay in Motel 6 was nothing spectacular. Our next stop on the trip is Las Vegas, but we did not take the shortest route yet :). We first drove to a ghost town called Rhyolite. A ghost town is kind of an abandoned place from the past mining days probably. What remains is just the skeletal parts of the houses built then. Its a good stop over for an hour or so.
A Recreational Vehicle on a lonely rest area in Nevada
As we cruise on the lonely Nevada backroads
cattle are our only companions :)
After Rhyolite we started on our long drive to Las Vegas (the straight route was like 100 miles, we drove around for about 250!). We took the circutous route to get a Nevada back country sampler. We drove past the US missle testing range, Area 51 as its called near the town of Tonopah in Nevada. It is part of folklore that Area 51 is where the US military stuff tests its new and funky stuff. This area sprawls for miles together of Nevada back country. The roads around here are some of the loneliest ones :). You could be lucky to see another vehicle cross you in a couple of hours. The landscape is small mountains, salt plains, brush vegetation, desert look for miles and miles. At times you can see your road for the next fifty miles or so without anything else in sight. At many places though we see cows wandering around. So we presumed there must be some ranches around.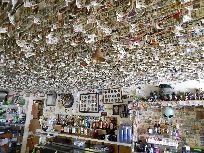 The funky Area 51 restaurant for aliens
Check out the ceiling here!!
This is also the place where people have claimed to sight a lot of Unidentified Flying Objects !!!. That claim to fame goes to a small time town called Rachel in Nevada. That is where we stopped for lunch. Theres this small bar / restaurant / bistro place all rolled into one called Ale-Inn - it welcomes all Earthlings! A lot of interesting stuff going on around this restaurant. Good food too. Our stop there breaked the monotony of our drive.
All UFOs welcome!
The long drive ended in us landing in sin city, Las Vegas around 5pm. We had a hearty early dinner at a place called Fabulous Vegas (in the Hawaiian Market) and landed up at another Motel 6 :). Well that was the best we could ask for in a city like this. we roamed around the streets until 11pm. We guess a lot is written about Vegas, does not make sense for us to add any more to that! We have one more day in Vegas tomorrow.
| | |
| --- | --- |
| Today was: | May 8th 2013 |
| Day Number: | 5 |
| Approximate Miles Travelled: | 350 |
| Region Travelling in: | Deep Interior Nevada |
| Petrol: | $51 |
---
May 9, 2013
Our take on Las Vegas is that in many senses it is a big contrast to the rest of Nevada. For example in the rest of Nevada you would find like one person per five square miles whereas in Las Vegas you would find a hundred thousand people in a few square miles. The rest of Nevada is all back country while LV is a huge city right in the middle of the desert.
A shopping mall at the Aria Casion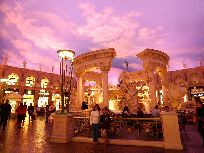 Deepa and Arnav strike a pose in Cesar's Palace casino
The Forum shops in Cesar's Palace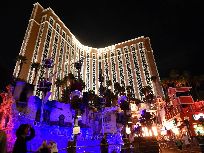 Treasure Island casino lights up at night!!
Deepa and Arnav collect MnMs in their huge store
All in all its billions and billions of lights. We wanted to write a bit about what we liked around here. The first thing is that one can take it very easy here. You can get up in the morning peacefully have breakfast at 11am :). Then hang around a bit - maybe visit a casio. If thats boring then go around to a nice restaurant or a ride or maybe just hang around the hotel room. Here are a few casios and other things we like:
MGM Casino: The Rainforest cafe here is interesting. There is also a lot of other stuff one can do (other than gambling of course :).
The MnM store: MnMs are the US's gems that we get in India. If you are an MnM fan then this place is it. Its four storeys of fun with all goodies related to MnM. You get TShirts, caps, you name it... Two things stand out her - one you can personalize your MnMs. They actually print your name / word that you want on the MnMs you choose! The second thing is you have a huge array of MnM colors over a wall for kids to choose from! There is also a movie that runs for 10 minutes that is free and kids love it.
Excalibur: This is one casino resort you got to see. The outside is fashioned around old English castles. Inside you see knights, fancily dressed court jesters and the entire works. This casino is just worth a simple walk through.
New York New York: this has the roller coaster ride for the brave hearted ones.
Bellagio: This is the huge place that has the musical fountains in the front. The fountains run every half an hour or so... However the best part of this casino is the flower beds developed on the inside. Theres a nice butterfly garden in there and tons of flowers to enjoy. Add to that a huge chocolate fountain - three types of chocolates drip over glass surfaces over three stories. Oh man this was fun to watch. And then there are huge number of desserts you get out there... Chocolate lovers, rejoice!
Cesar's Palace: Another of those big casinos with some awesome entertainment. The Atlantis show is still good though the actors have now been replaced with moving robots (robs you the fun if you ask me :). The other thing to do in this casino is to walk around the Forum shops. Every big brand has a shop here. Hold your wallet tight.
The Mirage: This casino runs an hourly show outside / open to the street that imitates the erruption of a volcano. The show is good, the best part was the music accompanying the show.
Treasure Island: We had big hopes from the show at Treasure Island. Some time back this show used to be a fight as depicted from the popular novel. However that show has now been replaced with one that is musical with a lot of dancing girls and guys. It was a bit of a disappointment.
Overall LV is fun but we will not be able to stand it for too long. Moreover its not a place where you take kids along. It looks like even Arnav agrees with us, he wanted to get out of there soon too. So tomorrow we will be heading east towards Grand Canyon.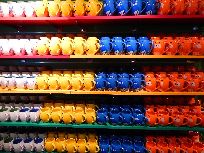 Want to collect colourful MnM mugs??
The Rainforest Cafe in MGM Casino
Arnav looks at the colourful gardens in Bellagio casino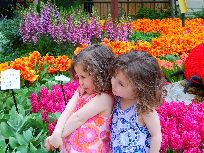 Twins!!! At the gardens of Bellagio
Ajay is about to go for the Chocolate falls!!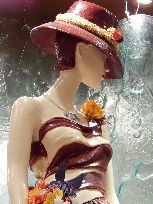 The Chocolate Lady!!
| | |
| --- | --- |
| Today was: | May 9th 2013 |
| Day Number: | 6 |
| Approximate Miles Travelled: | 25 |
| Region Travelling in: | Las Vegas, Nevada |
| Petrol: | $0 |
---
May 10, 2013
So today was good bye Las Vegas. We planned today to be well spaced out and a bit slow. We had a nice breakfast of pancakes and egg+cheese on Croisant. Egg and cheese on Croisant has been one of our favourite breakfast items. We had some groceries to purchase. So we stopped at the local walmart to replenish all our stuff. Arnav got his favourite lego toy. After all this we gassed up and started driving towards Hoover dam. On the way we pass the beautiful Lake Mead. This lake was created when Hoover dam was built, it is probably the biggest man made water body.
The beautiful Lake Mead
Hoover dam is one of the most inspirational engineering structures of the last century. It was built amidst the great american depression. It is built on the massive Colorado river. Colorado river was both a friend and a foe then - friend because it brought water to the deserts and enemy because it brought floods to destroy humanity. The dam was built to tame this river. One can read about what went in to build this dam online - suffice it to say that it took about 5000 workers working round the clock with only two holidays a year, working for five years to finish it. The dam was completed two years ahead of schedule (very unheard of in modern IT ruled worlds!). Its an exemplary structure still standing after 75 years. The electricity generated alone by it has more than paid for, the investment made into the dam.
We took the powerplant tour. It takes us 500 feet below into the canyon on which the dam is built. The tour is fantastic but our guide was a bit of a bore - we could hardly understand his speech. Most of the time he was looking down when he spoke. He was very knowledgeable but just not a good speaker.
After Hoover dam, Deepa got behind wheel again and we flowed down Arizona open spaces into a town called Kingman where we camped for the night. We stayed at a simple but functional motel called Economy inn. It was owned by an old Gujju couple. Hats off the Gujarathi clan for going to the other end of the world and owning large chains of motels. They are one tenacious people. Dinner for us was Rajma Chawal (made from american ingredients :)).
The majestic Hoover Dam
The turbines in the dam that generate electricity
| | |
| --- | --- |
| Today was: | May 10th 2013 |
| Day Number: | 7 |
| Approximate Miles Travelled: | 100 |
| Region Travelling in: | Hoover Dam and Arizona |
| Petrol: | $54 |
---