BTW 2013: Week 4
Click on any of the photos for a bigger version
May 25, 2013
We woke up in the Super 8 Motel and dived into their breakfast. Today is a driving day and hence we wamted to start in the right spirits :). Today we we would be leaving Montana and driving into Washington state. Hey we would be back into the Pacific Time Zone.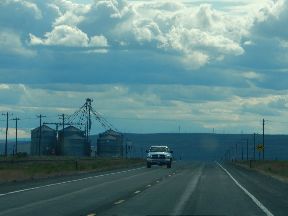 Eastern Washington is farms, garniers and flat roads!
Out of the town of Kalispell after fuelling up, we took the scenic route 2 going west. We coasted through a lot of agricultural and scenic towns. Eventually we met with Interstate 90 around the town of Hayden on the border of Montana and Washington. We had a stop for some shopping and lunch there. Then we contined heading west on I90 and then againg switched over to the scenic smaller routes. Our next national park is the North Cascades next to the Canada US border. So we wanted to go and stay as close to it as possible.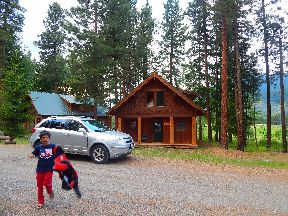 Arnav tries to get his jacket
on quickly in front of the Timberline Lodge
We passed some scenic places along the way - Lake Chelan was one of them. On hindsight we later realized that we should not have strived to get close to North Cascades, instead stay at Lake Chelan. We also passed a lot of apple and other fruit orchards along the way. Eventually we took route 20 that is the gateway to North Cascades NP. We enquired for good places to stay in Twisp and Winthrop. Unfortunately we could not find anything reasonable, in fact everything was sold out. All RV parks and motels were choc a bloc.
The Timberline Lodge was nestled among beautiful mountains
We then realized that there was a rodeo going on for the Memorial day long weekend and hence the whole country had turned out for that. We then drove up to Mazama and were now desperate to find a place for the night. We then noticed a remote place on the hill with a bunch of bunglow like cabins called Timberline. Since their gate was open we barged in not even knowing if they were renting places out. It turned out that they were indeed renting out and had only two more cabins left. They were exhorbitant (twice the amount that we were usually paying), but were gorgeous. The cabins were made of solid wood and the interior was just too good. We jumped at one of them and thus settled down for the night in a semi-resort like log cabins right in the heart of a pine forest. Thus an adventurous day came to an end.
| | |
| --- | --- |
| Today was: | May 25th 2013 |
| Day Number: | 22 |
| Approximate Miles Travelled: | 300 |
| Region Travelling in: | East Washington State |
| Petrol: | $49 |
---
May 26, 2013
Arnav was extremely happy to be in snow again!!
We wake up in our palatial log cabin to a cloudy day. We do our own breakfast and head out on Route 20 west (now called the North Cascades highway). We are into North Cascades National Park in about half an hour. Soon the drive turns to be very beautiful. We are back into snow capped mountains - we actually stopped at yet another rest area to play more snow. The black and white mountains are looking stupendous. The highway winds its way along the Granite creek into the park. Soon we reached the highest point on the road called the Washington Pass. Most of the road had like 3 feet of snow piled up on either side. After the Washington Pass, it was the Rainy Pass. We stopped at all the points for pictures. At some places we just stopped to look and enjoy the numerours waterfalls created by the snow melt. One thing we now noticed is that as soon as we got into WA state, the sun disappeared. We mostly had cloudy skies and it rained very frequently.
The North Cascades is full of cascades like these. Beautiful!!!
Cascades and waterfalls like this.
There are three points that are very notable - the Ross Lake Overlook, the Diablo Overlook and the Gorge Creek. All of them have excellent views of various points. After all these points we floated down through the clouds to the Visitor Center at Newhalem. The visitor center is well hidden behing a rain forest and a one lane bridge :). But we still found it. The orientation movie here was not all that great, but the rangers were very helpful. Given the weather and the time of the year we did not have much else to see out here. So it looks like North Cascades is mostly a summer destination. As we departed the park, there were some pretty spring blooms along the way.

And vistas like these
The Icecream store was of course open!
After descending out of the park, we landed for lunch in a small town called Concrete. What a funny name to have for a town. The two lady run restaurant served us some simple but great tasting food there. After food we started further ahead through the town of Burlington to see if there were still any Tulips blooms left in the Skagit valley. Unfortunately all the blooms were done, not even other flowers in the fields. However we still found Roozen Garde and their demo garden was still in great bloom. So we spent some time out there. After that our plan today is to go and pile on our friends - Raj and Anju in Redmond (the place where Microsoft is headquartered).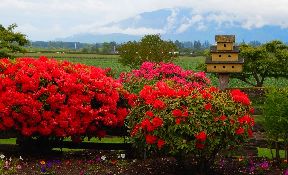 Skagit Valley blooms with various flowers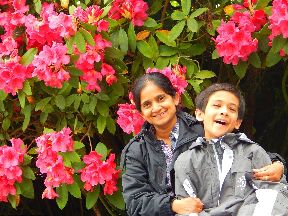 Deepa and Arnav strike a pose
Flowers!
| | |
| --- | --- |
| Today was: | May 26th 2013 |
| Day Number: | 23 |
| Approximate Miles Travelled: | 200 |
| Region Travelling in: | North Cascades NP, WA |
| Petrol: | $78 |
---
May 27, 2013
Today we had a surprise - our friend Anju joined us in our car for the rest of our road trip adventure :). We started from their place after a hearty breakfast of Amboli !! Our plan was to travel through the Olympic National Park today.
To get out there from Redmond the best route is of course to take the Edmonds-Kingston Ferry. This is an interesting experience. We drive our car into the ferry - a huge boat. The boat goes from one bank to the other and we drive out. It is fun, but pretty expensive, the charge for the car and also separately for the people inside. Once we got to the other side, we drove up Route 101 towards Olympic NP. It was a long drive for our first stop - Port Angeles. We reached there around lunch time with one stop for coffee. We saw the introductory movie at the NPS visitor center and then cooked maggi+bread lunch in the picnic area adjacent to the visitor center. It was cloudy all the time and raining now and then. Typical Seattle weather.
The walk to Marymere falls was exhilirating
And it was dotted by cascades like this one
Our first stop after lunch was the Lake Crescent area. It was beautiful though the sky was overcast. We did not stay out much because of the weather. The next stop was a hike to the Marymere Falls. This was excellent since it goes through some good rain forests. We enjoyed the 3 mile hike a lot. The falls are also good, but the rainforest experience was better. Our next stop was Rialto Beach on the west side of the park. Here is where the Sol Duc river deltas into the Pacific ocean. The Rialto beach is interesting in the senses that it is a black beach, the sea is very rough and there are a lot of land masses jutting out of the sea / beach. It looks like those land masses were not in the sea some time back and have now been consumed. Again because of the weather we did not stay out much.
The Hoh Rain Forest in really enchanting
The next stop is something that we will remember forever - the Hoh Rain Forest. This is quite deep in the NP, we have to go in on an 18 mile drive before we can get to the trails. But once we get into this forest, its like a magical wonderland of a rain forest. It feels like the rain forest was made for a fairy tale like that of goldilocks or cindrella. Though it was raining in the forest you dont feel much, because hardly any water reaches you as the vegetation is thick and does not allow water down. All the trees in the rain forest are covered with moss and lichens. They have erie colours and formations. We walked through what was called as the Hall of Mosses. We were transfixed by the views and were transformed into a different world. After our 1.5 mile hike we came back to the parking lot thoroughly mesmerized. We were the last ones to get out of that spooky forest! We dug into the night at the town of Forks within the National Park. Tomorrow is going to be another interesting day!!
| | |
| --- | --- |
| Today was: | May 27th 2013 |
| Day Number: | 24 |
| Approximate Miles Travelled: | 250 |
| Region Travelling in: | Olympic National Park, WA |
| Petrol: | $0 |
---
May 28, 2013
Lunch at the town of Ilwaco
We woke up in the local motel at Forks - cold, wet and hungry :). The motel was nothing to talk about, in fact the bathroom walls were leaning in though the rest of the room was okay. The Washington weather did not let go outside. It was raining intermittently. We had bread for breakfast and hooked ourselves up in our SUV for a long drive. All along we hugged the Washington coast on route 101. The drive is beautiful, but you need to pick the right days (Washington has only about 50 days of clear sunshine days every year). We stopped at the town of Ilwaco next to Long Beach for lunch. We found a convenient state park picnic area to cook maggie and had it with bread.
The famed rocky west coast at Tillamook Bay
Eventually we rolled out of Washington into Oregon by riding over the long bridge on the Columbia river near the town of Astoria. After a coffee shop, we continued to go along the coast. Between the rain clouds, the sun was peeping in now and then. Though there are a large number of things to see here, the weather was not very conducive. We decided to do only one of the major ones - the three capes drive near Tillamook Bay. After that we took routes 18 and 22 to reach Interstate 5 near Salem. Finally we landed up in the town of Eugene (yet another Gujarathi motel) for the night.
| | |
| --- | --- |
| Today was: | May 28th 2013 |
| Day Number: | 25 |
| Approximate Miles Travelled: | 300 |
| Region Travelling in: | Oregon Coastal region |
| Petrol: | $67 |
---
May 29, 2013
The Gujarathi Motel had a provision for breakfast in a small corner in their office. Breakfast was nothing to write about, but still it got us going. We had waffles, cereals, coffee, etc. Today was the day to go to Crater Lake. The weather gods were appeased after we got a long way south of Washington. We saw brilliant sunshine today morning. Finally!!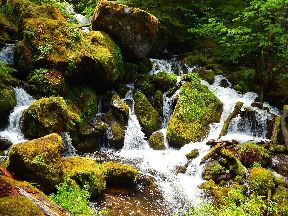 Cascades along the road to Crater Lake
We took the scenic route to Crater Lake from Roseburg (instead of another route). Our first stop was the Collision of the Rivers point. Here the Little and the Umpqua river join forces to hurry towards the Pacific ocean. In spring because of the heavy amount of water in both rivers, there is a large collision between them - hence the name. On our first try, we drove past this point and had to ask someone to get to find it. The drive towards the Crater Lake NP slowly turned very scenic and we winded up stopping every so often to look at the various spots.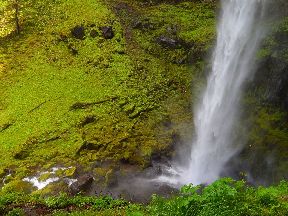 The Watson falls plunges 150 feet
Our second point of intereset on the route was the Watson Falls. Yet again here, we drove past the point and realized this after ten minutes or so. So yet another U turn. At Watson Falls, we got down and started upon the short 1/2 mile hike. The hike climbs some 300 feet to get to the falls. The weather gods were very pleased and showered us with more sunshine. This hike is excellent since it goes through some deep forest. You are never far away from a good scneic spot. Water gushes down steep slopes over moss covered stones. Eventually after much huffing and puffing we reached the top. The view of the falls is good, but the hike is much better. We spent some time and hiked back to the parking lot.
After the hike we were slowly looking hungry. Since the weather was inclement we could not cook anything. Hence we stopped at Diamond Creek lodge for some food. We were skeptical about the lodge initially since we spotted a huge set of insects outside (they seemed to have some spring special going on there!). However once we were seated for lunch we were put at rest by the very excellent waitress. She was very thoughtful and got us the right things we wanted. We had a great lunch.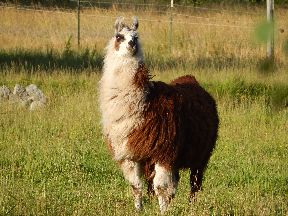 A llama looks on in Jackson Ville
After we drove to Crater lake NP. The drive again is fabulous. However once we reached the top, can you believe it - it was snowing!!! We saw huge clouds, fog and snow. The fog was so thick that we could not see 5 feet ahead. Someone pointed "there is crater lake" and all we could see was a white thick fog. So Crater Lake was a bit of a give up. The weather gods did not want us to see it :(. So we packed up and went to the visitor center. There we got to see the orientation film as usual - where we could see some glimpses of the Crater Lake.
After Crater Lake the scneic drive continues down south slowly inching towards California. We found one more gem for the evening. This is a place called Jacksonville near Medford in Oregon (on the CA border). This town has restored some of the Victorian houses. One has to park the car and walk around town. One can find many many houses which have excellent designs, cool neat lawns and an air of Victorian-ness about them. We had a great time walking and seeing these houses. We took tons of photographs. That was a great way to end the day - we drove down into CA and stayed in Yreka for the night. We wanted to be close to Mount Shasta... Hey we are back into California!! A last couple of days on the trip left :).
Jackson Ville - oh my god!
OMG !!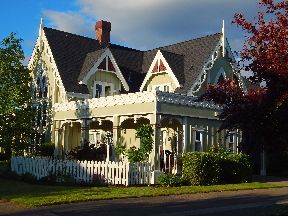 OMG !!
OMG - a restaurant
| | |
| --- | --- |
| Today was: | May 29th 2013 |
| Day Number: | 26 |
| Approximate Miles Travelled: | 250 |
| Region Travelling in: | Crater National Park, OR |
| Petrol: | $56 |
---
May 30, 2013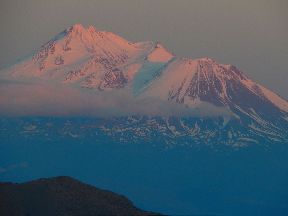 Mt Shasta looms as a tall lighthouse
Another view of Mt Shasta
We are feeling the jitters - BTW 2013 draws to a close :). However there are still a couple of nice things we want to see today / tomorrow. We started our day in the town of Yreka with some self made breakfast. We were rolling on the road to drive towards Mt Shasta - our first big ticket item today. As soon as you get onto the highway you see the tall venerable mountain dominating most of your view. It is the only thing as large (and in winter as white!) on the horizon. It is an awesome sight to behold.
We reached the town of Mt Shasta and headed to the local visitor center. The lady behind the counter was very courteous and told us about various things to do around the place. Our first thing for the day was to drive up the Everitt Memorial Highway up the venerable mountain itself. Due to the weather conditions this road was only open half way up - up to a place called Bunny Flats. The drive up is short but pretty scenic. We reached there in no time and took the customary walk around. Mt Shasta was standing in front of us majestically like a lone ranger. Most of it was snow covered and glistening in the morning sun. Then we noticed it - the one solitary sitting bench facing the mountain. It was occupied by a lady - as soon as we went close by she greeted us and started talking. She was a friendly local and we discussed so many things. It was nice talking to her.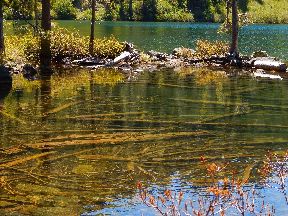 The clear Castle Lake shows off the logs
No words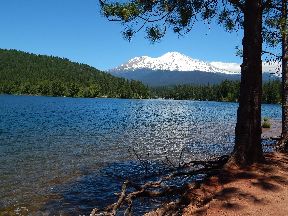 Mt Shasta showers its presence on Lake Sisikiyou
After Bunny Flats our next destination was a place called Castle Lake. We had learnt that this place had beautiful views and also planned to do our picnic lunch there. The drive was a bit winding but short. We reached Castle Lake around 12:30pm or so. We explored the area around the local hiking trails - the lake is excellent. Its a great camping place. Eventually we settled down in front of the lake for our lunch picnic. We prepared Maggi noodles with bread. Castle Lake also soon acquired the distinction of where Ajay lost his spectacles :). After Castle Lake we drove down to another lake called Sisikiyou. This was a pleasant surprise. it had better views of Mt Shasta and also better facilities. For camping Castle Lake could be better, but for views and a picnic Sisikiyou is definitely better.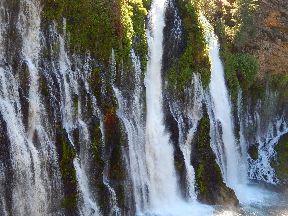 Burney Falls is an inspiration
At the base of the falls
For the afternoon we had another water body (after the two lakes we saw). The next water body was Burney Falls. This is about an hour's drive from Mt Shasta on route 89 (the full name of the place is Mac Arthur-Burney Falls State Park). We arrived there around 3pm and immediately hit the hike to get to the bottom of the falls. Burney Falls is an amazing place. It is very accessible via the hike and you can actually touch the water at the bottom. The falls is majestic - there are three main water downpours and many small trickles. The smaller falls lend a sort of calmness and majesty to the larger noisy ones. Overall the falls is spread over more than 250 feet wide and close to 115 feet in height. After taking many photographs we continued the Falls Loop hike. This place left a huge impression on us, it is definitely a must visit place for any one. Particularly in spring when the water flow is at its highest.
After the falls the rest of the day for us was mostly driving - we headed west towards the California coast. Our plan for tomorrow was to hit the majestic red wood trees. We dropped anchor in the town of Arcata for the night.
Sunset brings on idyllic colours
| | |
| --- | --- |
| Today was: | May 30th 2013 |
| Day Number: | 27 |
| Approximate Miles Travelled: | 250 |
| Region Travelling in: | Northern California |
| Petrol: | $0 |
---
May 31, 2013
Rhodendrons bloom in front of giant redwood trees
Hey all!!! This is the last day of BTW 2013. We are looking at it with both sadness and excitement, primarily because we are headed into the giant redwood forests. Our motel in the town of Arcata had a small breakfast counter. In our research we found out where the world's tallest trees are and we wanted to hike to them today. These trees were discovered to be in the northern california area which is now Redwoods National Park around the town of Orick. The hike to this groove is not very accessible and the NPS folks give out only fifty free driving permits a day.
Deepa and Arnav check out a fallen redwood
Hike to the Tall Groove
So we had our breakfast and rushed to the Thomas Kuchel visitor center. Thankfully we got our permit and were driving on Bald Mountain Road soon. From this road there is a 6 mile unpaved road that takes us to the Tall Trees Groove trail head. After this there is a nice, moderately strenous 4 mile hike. The hike is great one and we definitely recommend it and the tall groove is an outright raw forest (as opposed to the nicely kept Sequoia NP). You get stung by mosquitoes, you step into wet mires and get cut by sharp leaves :). But that is what a forest ought to be... The Tall Trees Groove is well marked but since we are tiny and at the base of these giants, there is not much we can see because of the thick foliage. So the best way to see these giants would be to get a helicopter :) :). Unfortunately we did not have one.
It was interesting for our Behind the Wheel trip - in the first set of things we saw was the largest tree by Volume (General Sherman) and now on the last day we are seeing Hyperion in the Tall Trees Groove.
Can this be a tree???
After this strenous four hour hike, we headed out to the Praire Creek Redwoods park for our lunch. Imagine that: having a picnic under an age old behemoth redwood tree. So we had ours :). The Prairie Creek is also famous for Elks (deer like animals). However we did not see any of them since it was a hot noon. After lunch we drove down to another mesmerizing place called the Avenue of the Giants. This is a 32 mile drive through the Humboldt Redwoods State Park. It traverses some of the most beautiful and large redwood tree grooves. It is a great a way to see them in your car. There are a lot of places where one can stop and do short hikes into the giants. It was also evening and we got some really nice views. This is another must see in northern California.
And the customary drive through tree!!!
Our last Redwood experience for the day was the Drive Through Tree (how can any trip be complete without that :). For this we chose the Chandelier Tree in the town of Legget (as one can imagine there are multiple drive through trees in this area). We heard that the folks that manage this park had kept it very well. We found that to be true, we went to the spot and enjoyed the drive through the Chandelior tree. The kid in all of us is excited to experience this any number of times.
After the Redwood experiences, our plan for the rest of BTW 2013 was to drive the scenic route 1 back to the San Francisco Bay Area. So accordingly we took Route 1 in Legget and headed towards the coast. A sunset was coming up for some great views. However looking we felt this was a mistake, we did not have enough time to drive the curvy Route 1 all the way back. So we drove it for some time and then decided against that. We eventually got back to Rt 101 and headed back to the Bay Area.
So that concludes BTW 2013 !!! What a ride we had !!!
| | |
| --- | --- |
| Today was: | May 31st 2013 |
| Day Number: | 28 |
| Approximate Miles Travelled: | 300 |
| Region Travelling in: | Coastal California |
| Petrol: | $82 |
---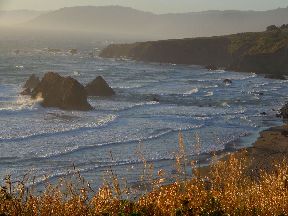 And we leave you with another sunset on the US west coast