Kerala - The Jewel of the South
Click on any of the photos for a bigger version
---
Introduction and Planning
Plans were made for quite some time and eventually it materialzed in Nov 2015. God's own country, here we come!! Since we were traveling with senior citizens (parents from both the sides) we wanted to do the trip at our pace. Hence we decided against taking a pre-packaged one. As we always prefer, we tried to keep out of big cities as much as possible. The most time we spent in a big city was in Cochin (Kochi). This was on our way back - we shopped and in general enjoyed the city life only then.
Another important aspect is we also had a good mix of home stays, good hotels, houseboats and even Ashrams (in Kanyakumari). Check out our tips section towards the end of this travelogue for ideas on how to get the right kind of places to stay.
And finally the Areas we visited
Kerala is stretched north to south. There are two distinct routes one can take: North of Cochin and South of Cochin. The northern side has Waynad, Kozhikode, Tharmasserry and other beautiful places. The southern parts is what we picked - this gave us an opportunity to visit the Vivekananda Rock Memorial in Kanyakumari.
The route we followed
Cochin - Munnar - Thekkady - Kollam - Kanyakumari - Alleppey - Cochin.
(courtesy: maps.google.com)
The map above gives you the route we followed: Cochin : Munnar : Thekkady : Kollam : Kanyakumari : Alleppey : Cochin.
Day 0. Belgaum to Bengaluru
Our day counting starts a couple of days before we hit Kerala. That is because even day 0 was filled with adventure!! Our trip started from Belgaum. The troop as before (check out our Rajasthan trip!) consisted of we three - Ajay, Deepa and Arnav - and our parents from either sides. So in all seven of us. We were all booked on the Belgaum - Bengaluru flight departing at 4pm. Belgaum being a smaller city, we figured if we reach the airport around 230, we should be good. So there we were all set alighted with luggage, waving good bye to the driver who dropped us.
The troop is all ready to fly (at Bengaluru airport)
We get to the airport enterance and the guard asks all of us to show identification. As we trickled through, Ajay's parents announce they are not carrying any ID proofs on them. Since they dont drive they usually dont carry an drivers license. Where are their passports?? At home locked safely in the cupboard of course. Oh my god!! Panic sets in.
We hurriedly call the driver: "hey get back here!" In ten minutes Amma and Ajay are back in the car - asking the driver to drive like there is no tomorrow, going back home. The driver seeing the panic on our faces does his best. We hurtle back home, dig into the cupboards, find the two passports and we are back in the car. Time is 320pm. Meanwhile the other folks at the airport have all prepared to take off without Ajay and Amma. The driver floors it again this time hurtling back towards the airport. The car screeches to a halt in front of the airport door at 350pm. The flight is boarding people set to take off.
But it being Belgaum, the airport is just one big room and everyone present there now knows whats happening. The people literally clap as Amma and Ajay enter the airport and squeeze out the other end to get to the airplane. We breathe only after the flight takes off, thankfully with all the seven of us on board. Not a bad start to trip, eh!!
We reach Bengaluru in the evening and spend the evening with friends.
Day 1. Around Cochin / Ernakulam
The next day we had a long drive to the Bengaluru airport as we stayed with friends on Mysore road. Since it was in the afternoon, not much traffic. Without any further incidents, here we come Kerala!!
Landed in Cochin / Ernakulam airport in the afternoon. As noted earlier we had booked our taxi for the entire stay earlier. We had been given the driver's number and car details. We called Dileep once we got out and were comfortably seated in a Tata Aria heading out of the airport. Dileep turned out to be a very nice person of about 45 years of age. He spoke good English and Hindi - and was very talkative.
The birthplace of Sri Shankaracharya at Kalady
The Poorna River (eventually joining Periyar)
The Krishna Temple
From Ernakulam our first destination was Munnar. However since it was a longish drive we took a break in between at a small town called Kothamangalam. On the way we stopped at Kalady. Our Kerala tour started with the Sri Krishna temple and the Sringeri Mutt there. The two temples are right on the banks of the river Periyaar. This is the birth place of the famous hindu saint - Adi Shankaracharya. Its a nice place to visit, more so because of its proximity to the airport.
The Cheeyappara waterfall on the way to Munnar
The hand operated weaving machine at Kasavu Alayam (Kerala Silk)
After the visit, we drove for an hour or so in light drizzle to Kothamangalam and parked ourselves at hotel called Maria International. It seemed like an old establishment - the furniture as old as its owner! Nothing to write about but we had a place for the night.
Day 2. Towards Munnar
The morning was bright and fresh. We were well rested and ready for action. Our driver, Dileep, was a moving encyclopedia of restaurants and places to go. On his advice we checked out of Maria International and moved to a roadside pure vegetarian restaurant for breakfast. After hogging on Dosas, we hit the road. Just as we started climbing the Munnar hills, Dileep got us to stop at Kaasavu Alayam - a Kerala traditional clothing center. We bought ourselves sarees, dhotis and all.
First views of Munnar
A hotel rests amidst the tea gardens of Munnar
View from our room at Estate Residency, Munnar
Munnar the mountain town amidst tea gardens!
Tea pickers at work
Good morning!! The mist swirls on the tea estates
A hike through the tea gardens
Another view
Hard working people start early
Flower beds at Munnar (1)
Headed for an early morning stroll, eh??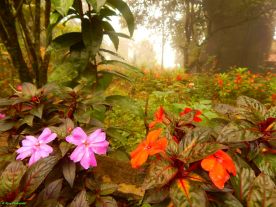 Flower beds at Munnar (2)
Flower beds at Munnar (3)
Flower beds at Munnar (4)
At around the stroke of lunch we entered Munnar. The drive was excellent winding through the mountains as one would expect. Munnar is a town thats wholy built on top of the mountains teeming with tea estates. At Munnar we were housed up in Estate Residency. We had Putthu for lunch at a road side restaurant. After lunch we booked our tickets for a performance at Punarjani at Munnar. Then we came back to our rooms for a short siesta.
Punarjani is performing arts center. We had booked shows for two shows: the Malayali traditional dance of Kathakalli and the Kalari Payattu martial arts show. Kathakali is a very interesting dance form with smooth and forceful moves. The dancers also color their faces vividly and wear extremely vibrant dresses. The stories depicted in the dances usually come from Indian mythology. Typically the stories are about the victory of good over evil. It is also very interesting to watch the artists paint their faces before the performance. We all enjoyed this performance thoroughly.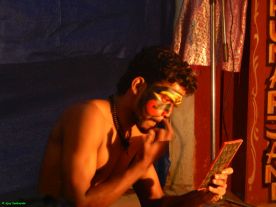 A Kathakali performer gets ready
Oh man, he looks like an excellent she!!
The elaborate dress, the emphasized moves - Kathakali is quite enchanting!
Another view
The devil incarnate!
Kalari Payattu - Kerala's own martial art form
A performer jumps through the ring of fire
After that we moved to the adjoining theatre where we witnessed Kalary Payattu. This is an ancient martial arts form born in Kerala. The performance was in a coliseum which was surrounded by the audience sitting and clapping. The performers were a combination of lithe agility, gracefulness and raw power. The performances also included various weapons like knives, swords, sticks and the like. Some of the feats were simply mind boggling.
After such a voracious evening, we were all hungry. We went to the Patels for dinner. Came back and crashed at the Estate Residency.
Day 3. Munnar Tea Gardens
Good Morning!
Estate Residency was one of the lovely homestays that we enjoyed in Kerala. The place is located amidst a thick plantation of cardamom and pepper. The owner of Estate Residency Philip and Sheeba run this family business of cardamom plantation and alongside they offer homestay. They are a very kind and nice couple. We felt so much at ease and comfort at their place. The cooks and maids they have were also soft spoken and helping natured. In general, Kerala people are really soft spoken and very well mannered. Such a contrast as we were visiting from Pune J.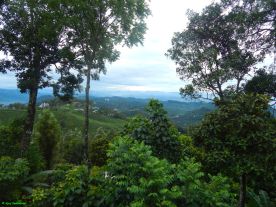 Another view from our hotel...
The endless layers of mountains...
Form a thousand shades of blue!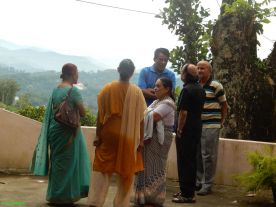 The troop having a discussion with Phillip and Sheeba
We got two rooms on terrace and one on the ground floor. Baba and Mummy stayed at the ground and we stayed at 1st floor rooms with Papa and Amma. We had such a picturesque view of sprawling tea gardens from large windows of our room. When I got up, even before brushing my teeth, I took out the camera…
We went to the rose garden then. It had a variety of flowers including a large blossom of beautiful roses. There was a tiny two inch pineapple – ornamental pineapple. We took a bunch of nice flower photos. Papa , as usual, interested in seeds for various plants and was behind the plant managers for informationJ. The next destination was Madukttela dam. The winding road took us down to this place through nice tea plantations surrounding all the winding roads. Anywhere and everywhere, we could only see nicely arranged tea plants. It's a lot of fun just travelling through wonderful roads surrounded by so much greenery.
Amma and Papa heading to the flower gardens
Arnav strikes a pose at the KFDC flower gardens
At the KFDC gardens, Munnar
At the KFDC gardens, Munnar
Deepa with Mummy and Baba the KFDC gardens, Munnar
At the KFDC gardens, Munnar
At the KFDC gardens, Munnar
At the KFDC gardens, Munnar
At the KFDC gardens, Munnar
Ajay and Deepa at the KFDC gardens, Munnar
At the KFDC gardens, Munnar
Sipping tea at the Moolakadai view point
Noticed Papa's head gear?? :)
A view of the lake...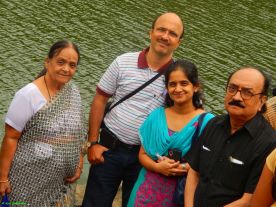 Arnav taking the picture - looks really different!
An idyllic place nested in the hills...
On the way back, we stopped at Saravana Bhavana for tassting local Kerala food. They served good on big banana leaf. Rice and variety of saru was something that we enjoyed. Much against Mom's instructions, I still ordered Aloo Parantha – as if I wanted to test their north Indian culinary skills. And what a beauty of a parantha they'd made! My teeth had the time of their life suiciding! I would suggest you to try this stuff (and die).
All the time we were being surrounded by tea gardens – it was high-time we tried out all flavored teas in Kerala. Our driver took us near a big lake. The lake was surrounded by shopping area and tea / chips shops. We tried our all flavors of tea – ginger, cardamom, masala etc. The tea was heavenly! Kerala people do know how to make nice tea out of the tea plants they grow J. I tried my hand at shooting with a rifle at ballons and 2 shots hit balloons outta 5.
Tea country everywhere!!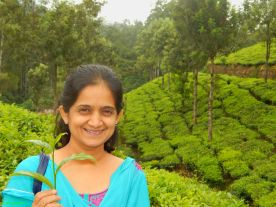 Deepa advertises for Munnar tea!!
More tea country...
More tea country...
More tea country...
Dont you love these drives!!
Dont you love these drives!!
Thats why its called "Gods own country"
Walk through the mountains
One of the Kannan Devan tea factories on the way to Lakkam falls
The whole troop!
The Lakkam falls rivulet
A wild flower...
Ajay strikes a pose at Lakkam falls
A localite at the Lakkam falls :)
Mist engulfs the mountains as the sun sets
Did we tell you we were in tea country??
We were very tired after whole days trip and returned to Estate Residency. Had nice gupshup with the owners. Philip – the homestay owner took us for a tour of how cardamoms are plucked and dried and are converted to the sellable form. There was a big machine that had a feeder for green cardamoms that are just picked up from the plants. The drying machine runs the entire night and reduces the cardamom volume to about 20%. Then you have nice smelling dried cardamoms that you see in shops. Mom and Grandmoms jumped to buy the cardamom from the owner at a nice wholesale rate. Not sure why are they all so crazy after these masala productsJ. 700 Rs. Per kilo it was.
The next attraction for us was to get a demo by the owner for 'Puttu Making'. The owner lady Sheeba was so gracious and showed us entire puttu making process and also served hot puttu with Kerala papad. It was awesome. I am hoping to get Puttu in my tiffin box at least few times now that MOM (not mission orbiting mars, that would send me on the red planet) knows how to make it J.
Even after having Puttu, we wanted to still try out some local food. There was still some space in my stomachJ. However we couldn't get something that we would like in the surrounding hotels. We tried 'Mirchi'. Not very excited by the food there.
Day 4. At Thekkady
Yep.so we checked out from Estate Residency with a sumptuous breakfast of Appam with Stew. Overall, Bed rating: 3.5/5
Hotel rating: 4/5
After that, we stopped at Hindustan spices to make some purchases. NOTE: Baba forgot to give his room's keys to the management. Fortunately, our driver gave the keys to a local shop owner to give the keys back! We made heavy purchases at the spice shop aft'r having a tour of the fields and crops.
St. Sebastian Forane Church, Nedumkandam
Another view of the church
Oh my!! How neat are the interiors of these holy places!!
Refuelling stop at a local tea shop
Coffee plants at Hindustan Spices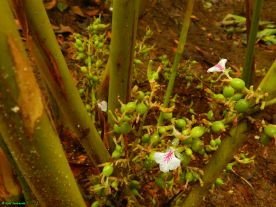 Cardamom
The Cocoa fruit
More cardamom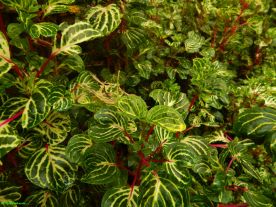 At Hindustan Spices
At Hindustan Spices
At Hindustan Spices
The multi-spice plant
At Hindustan Spices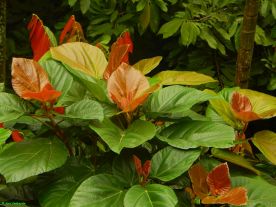 At Hindustan Spices
And as usual, Mummy forgot to take her bag and might have exchanged it with another if Mom had not asked her to check if it's hers or not. Then we had lunch at around 1:30pm and headed on to a thick jungle which took us to Thekkady.
Then we found our hotel, located at a hill top, At a mind boggling height of 1.9km!! The road was so thin that even two cars couldn't drive simultaneously AND there were elephants which used to smack cars down the cliffy road… I had a look down the slopes, and I wouldn't want you to look down there if you are not a demonologist, as there were carcasses, skeletons and cars which were just torn into pieces lying around, around 2km below where I looked down. After a gentle shudder of the car, we got out into an amazingly amazing hotel with birds, animals and lots of plants 'round. The welcome we got was.. was by a Microchip lookalike insect, and you WOULD want to put it into your mobile.. The rooms were nice, which had a lotta insects lurking about. The rooms had TVs which didn't even turn on.
Then we had to go down the little track again, the pathway where a million cars hath meth their enth. We slid down the road and had dinner and Ohh yes we did take Rs. 450 worth of chocolates. Before dinner, we went to an amazingly awesome (surprise surprise!) magic show. Then we drove back up, That was the worst decision as the car slid down the cliff right into the BIGG slope (that was my toy car which I had held by the window and dropped it by mistake and I didn't see its fate, our real car reached safe).
Thekkady - here we come!!
An elephant friend poses at Thekkady
These wild flowers were right outside Tabernacle hotel
Arnav strikes a pose with the magician father son duo
Day 5. Kollam
Today is the day when Mom And Dad celebrate their marriage anniversary. So, you might ask, what special stuff you did then!? First of all, there was a bird in the morning who sang a nice tune but so funny that it gave me a haunting and my Dad a bit to laugh on. Then we set out for a safari to The Periyar National Park. 16 nov 15 is also celebrated as opposite day ( as of mom dads anniversary where yes= no and no=yes, warning: everything here is the opposite!). So we had a lovely clear morning at 5, and we saw lions, tigers bulls and whatnot. No mist at all. Nice and cool morning. That was the "specialty of the day" ( Opposite stuff ends here).
Tabernacle bed rating: 4/5, hotel rating: 3/5 . We had breakfast with free vadas and started off to Kollam.
Good morning!! We are rolling out for a safari to Periyar National Park
The Periyar National Park stands majestically on mountain tops covered with mist!
At the Periyar National Park
At the Periyar National Park
At the Periyar National Park
A couple of vultures nest in the Periyar National Park
At the Periyar National Park
At the Periyar National Park
At the Pattumallay tea factory
At the Pattumallay tea factory
At the Pattumallay tea factory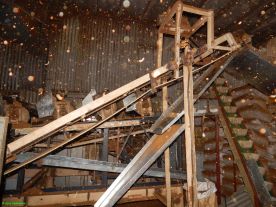 At the Pattumallay tea factory
At the Pattumallay tea factory
At the Pattumallay tea factory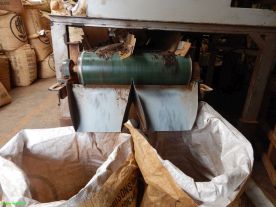 At the Pattumallay tea factory
Check out the process of tea making...
Tea leaves being dried at the factory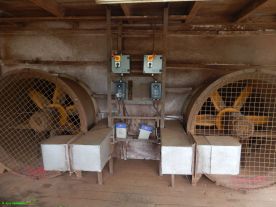 The large drying fans seen here
Did we say we are in tea country?? :)
And this is what you buy !!!
Thick forest at Thekkady
We had snacks at a Resto called Aryaaz, which served hot water which had jeera in it. Basically, people need colored or flavored water to live in kerela… Each and every hotel had warm water with coloring or jeera. We lived here in: Ashtamudi Villas. The approach road was as thin as Tabernacle's but shorter. The villas were unspeakably good! Fabulously clean, and the resort had WIFI!!! And along with that, we have mosquitos. They were as big as F-16s and bombing with their sting time to time. I just went for a break to the bathroom and found that anything inside echoed. One word from you and it would ricochet around twenty times making an absurd sound. We went to a hotel called Nan!s for dinner and it was just SENSATIONAL. I loved that and would recommend it to all Kollam goers. Hotel rating: 4.5/5 Bed rating: 5/5.
The Ashtamudi Villas - nice place to stay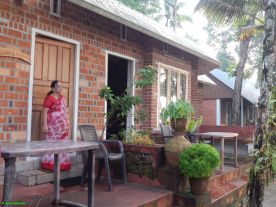 The Ashtamudi Villas - nice place to stay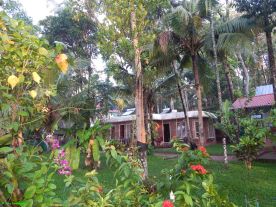 The Ashtamudi Villas - nice place to stay
The Ashtamudi Villas - on the inside
Day 6. Kanyakumari
We checked outta Ashtamudi and had a TN permit and headed to Russia Kanyakumari. Ate breakfast at Shree Lekshmi Bhavan BTW, It had good food and yes, it hath pink color water.. The drive led us to Udupi hotel on the way and we'd lunch there. Then we reached Kanyakumari. We visited Thiruvallur and The Vivekananda Rock and the Triveni Sangam as well. Tedious stuff for me, I was least interested. We had dinner at hotel Sangam which isn' located in the Triveni sangam but 2 km beside it. We checked Into the Vivekananda Kendra and they had A.M.A.Z.I.N.G. cottages. Marriot sucked before this. Quite a short day but nothin' else to write about here. Oh and BTW, the rooms in the cottages had ACs, 1 in each room, so don' ask me if Swami Vivekananda lived in AC rooms… Hotel rating: 4/5, Bed rating: 4/5.
The pious malayali couple enjoying a meal
The Paravoor back waters near Kollam
The Paravoor back waters near Kollam
Everything you wanted to know about Swami Vivekananda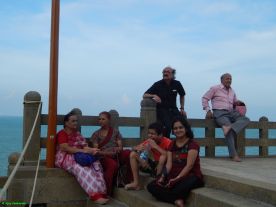 The troop enjoys the evening at the Vivekananda Rock Memorial
The Vivekananda Rock Memorial
The Vivekananda Rock Memorial
The Vivekananda Rock Memorial
Arnav strikes a pose!
The Vivekananda Rock Memorial
The church of Our Lady of Ransom Shrine
The Vivekananda Rock Memorial
The Vivekananda Rock Memorial
The Vivekananda Rock Memorial
The Vivekananda Rock Memorial
The statue of Thiruvallur
The Jumma Masjid at Kanyakumari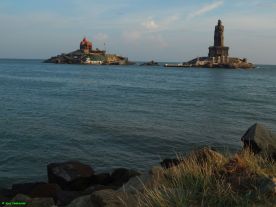 Evening sets over the two memorials
Evening sets over the memorial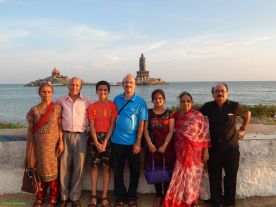 The Troop in front of the memorials
Amma and Papa strike a pose
Amma and Papa strike another pose
The sunset at the memorials
The sunset at the memorials
The sunset at the memorials
Beautiful articrafts made from sea shells!
Beautiful articrafts made from sea shells!
Day 7. Kanyakumari / Alleppey
My elders woke up at 6 AM to go to sunrise point and check the sun out. And I, I slept soundly in the room. Really, elders are fools just elders. We had food in the canteen there and it was Okayish food.
Good morning - peacocks on the morning walk
Sun rises at the Vivekananda Ashram, Kanyakumari
Morning poses at the memorial
Morning poses at the memorial
Mountains, lakes, coconut grooves - Kerala!
Next we started off to Allapuzha or Allepey, to get a Houseboat ride. Check-In was at 12PM sharp and we covered the 256 KM in 6 hours, starting at 8.. But we caught got the boat in time. Then we met the staff. A captain, chef and assistant chef all were on board. We had lunch there. At 'round 4PM, we bought YELLOW coconuts .-. yeah notice the face. After drinking everything inside that I took them to the balcony overboard and threw the missiles, pardon, coconuts into the water. We took some amazing photos and most of them by me B). We had a shopping stop at a village. Bought some stuff and got back on board and as the night closed in, the staff put down Mosquito Nets everywhere and despite that, atleast 225 mosquitos entered to kill us. Odomos was the savior as I emptied a tube on myself. Too many insects had come inside and to eat, we did have to put the fan off so that the insects didn't fall into our plate. We had already anchored for the night and in the middle, Mummy's and Baba's AC Shut Down. Just gr8.
Waiting for lunch!
All aboard the houseboat at Alleppey
Mummy relaxes as the houseboat slowly makes its way
The houseboat swings by some nice places
The houseboat swings by some nice places
Deepa enjoys a relaxing ride at the front
Baba enjoys a relaxing ride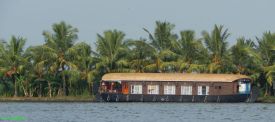 That is a three bedroom houseboat
Deepa strikes a pose as the boat floats by a marsh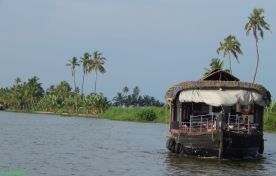 On the water highways!
On the water highways!
As we float past a church...
The evening sets in...
The evening sets in...
And the sunset on the Alleppey backwaters!
And the sunset on the Alleppey backwaters!
Out of this world!
Our houseboat docks for the night
Day 8. Alleppey Boathouse
Life started early in the boathouse with people including me waking at 7AM. We had B'fast of Idli, chutney and sambar along with vadas. Then we checked out of the boathouse. Hotel rating: 2.5/5, Bed rating: 3/5. We drove through local villages to cochin. We had a boat ride, that is a motorboat ride and had food at Aryaaz, another branch was here and checked-in to a place called Kanadan Homes. Awesomely Amazing homes. Baba and mummy got a suite room while the rest of us got normal rooms. I chose to sleep in Baba's and Mummy's room. Then we sat around, looking at how nice the place was, MarsOrbitingMission(MOM) and as usual, mom and dad took to walking 'round Thevara Junktion Junction. I took some photos of a cat.. It had one GREEN eye and the other YELLOW. Yuck. I took some other great photos as well and we had food there itself with the Kanadan Home owners. Great food. That was the day in-short. Hotel rating: 5/5, Bed rating: 5/5.
The stay at the boathouse was nice. It felt like we were the only boat in the entire backwaters. An occasional fisherman or a localite would pass us by in his boat in the night. In the dark night, it was hard to see them when they passed by, we just heard them.
Float past another marsh with wild flowers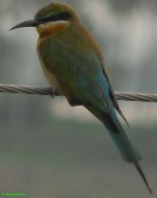 A kingfisher waiting...
Deepa steers the boat!
Arnav steers the boat!
These nice places are only accessible by water highways!
These nice places are only accessible by water highways!
Thats a water highway boatstop with morning commuters
The troop all set to get off the boat
The day in the boathouse starts early. There was action in the kitchen as early as 500am. We all were up and running by 6. We started rolling again by around 7am. Breakfast was served as we moved. Idly and tea were on the table. As we passed the small villages in the morning we saw the city boats (like in city buses). These boats help people travel from place to place. Many of the villages do not have any road connectivity and entirely depend on these boats. As we neared the Alleppey jetty the boathouse traffic really increased. All the folks that were out in the night come back to the jetty in the morning. We jostled with the rest to get to our parking space. And finally we checked out of the boathouse after spending a night in a very different way.
Our driver was ready for us as we stepped back into our (very familiar by now) car. The luggage was put on top and we drove from Alleppey towards Cochin. As always Dileep took us through a scenic route instead of the usual highway. We went through very small villages along the banks of the Vembanad lake and a multitude of small streams. Many of the houses here have small ditches outside which serve them water through out the year! The ground water is so close to the surface that digging a few feet is all one needs to do.
The beautiful Alleppey lighthouse
The Alleppey lighthouse
A view from the top
An eagle enjoys the view from the top
A view from the top
Cochin Lighthouse district
The board says it all
The lighthouse surroundings are extremely well maintained
As we drove through these small villages one of our goals was to do a ride in the backwaters around the mangrove forests. Eventually Dileep took us to a place near Cochin which had nice new motorboats to go through the groves. We negotiated a bit with them and eventually were on our way deep inside some nice backwaters. The ride was very soothing and we went through some really nice places. We were all sitting back and stretching our hands to meet the water as we rudderred along. The motorboat controller was a kid in his upper teens, but spoke a lot about the backwaters. The hour and half we spent was good, but we could not get to travel in any of the coconut groves. I guess we will go back for more.
After the ride all of us were hungry. We jumped into an Aryaas restaurant next door. Food was good as usual. After lunch we drove to downtown Kochi - in particular the fort area. As most of us were tired we did not do much walking around. Our driver drove around also acted as our guide commenting on the various sites. We went to the beach to check out the Chinese Fishing nets. They are an interesting contraption but just worth a look. Then we drove to St Francis Church - the famous dutch reformist church. Vasco Da Gama the famous explorer was buried here. After a short walk, we then drove around the jetty area and the suburb of Mattancherry. Finally we turned around to go to our hotel for the day.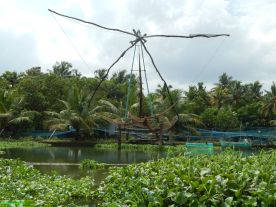 Chinese fishing nets at Cochin
A Mangrove at the backwaters near Cochin
As we float on the backwaters at Cochin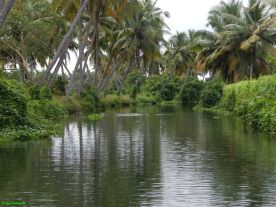 As we float on the backwaters at Cochin
St Francis Church, Fort, Cochin
St Francis Church, Fort, Cochin
Kanadan homes was a surreal experience! We reached there around 5pm and were greeted by the owner and his staff. The place was newly renovated and has an excellent garden around. The building itself is snow white and the rooms were very nice. Mr Kanadan himself is a perfect host. They all settled us down comfortably and we had tea in the verandah.
At the Kanadan Homes, Cochin
At the Kanadan Homes, Cochin
A furry friend at the Kanadan Homes, Cochin
Another sunset over Kerala
Day 9. Cochin
It all started off with Vada, Dosa and Omlette. Then shopping at broadway where I broke my leg(s) walking. Mom and other two ladies shopped like crazy. That made me go crazy. Then, after 2 hours of tedious shopping, we were back in the car.
The Cochin shopping streets
Drive towards the Lulu Mall, Cochin
We drove to Lulu Mall which was one of the airport-style malls that were there and we enjoyed ourselves there. We had lunch and shopped like a dog barking at a car which just missed it. We walked around the Cochin Shipyard, that's mom and dad NEVER me. We had dinner at kanadan and Mom and Dad AGAIN walked around the Thevara Junktion Junction. We had a good night's sleep before we started off to the Airport.
The Lulu mall, Cochin
The Lulu mall, Cochin
Desserts!! At the Lulu Mall
A houseboat model made of spices
Lulu Mall, Cochin
At the vegetable market, Cochin
Tapioca at the vegetable market, Cochin
At the vegetable market, Cochin
Onions!
Papayas
And some of the best Pineapples
Ratalu (Sweet Potatoes) at the vegetable market, Cochin
Oranges
At the Cochin Shipping yard
At the Cochin Shipping yard
At the Cochin Shipping yard
At the Cochin Shipping yard
At the Cochin Shipping yard
Day 10. Cochin
Good Bye to the house of Mr Kanadan
The day kicked off with Chana masala, Puttu and Vadas. We checked out from the Kanadan, which was a good stay while it lasted. We then drove to the Kochi Airport and bid adieu to Dileep and Kerela. We shopped for chips and halwa INSIDE the airport. The flight to Bangalore was smooth and nice. We had lunch in Subway at the airport and then started off to Belgaum. We had dinner at Ajanta, a hotel in Belgavi. Then we realized that we had forgotten a bag at the airport K. We drove back and DID NOT get the bag, but we did get it next morning. For then, we dropped Papa and Amma at their house and went to chikodi and slept at 1AM sharp.
That is the end of our kerela trip.. We saw some sensational sites and some crazy foods. But now Au Revoir to everyone!
The sun sets on the long water ways of Kerala
Tips and Tricks from the trip
To conclude, we wanted to distil some thoughts and ideas in this section so other visitors to this green state can make the best of their visits.
Covering the whole (north and south) of Kerala in one trip is going to be hard. You will need a lot of time. Primarily the internal roads are through mountains and hence by definition go pretty slow.
Train connectivity via the Konkan railway (from Mangalore) is excellent. So people coming from Mumbai / Pune side should consider that also.
Kerala is a very tourist friendly state. People are very nice and helpful. All the information and booking is on the Internet. If you have the time or need the flexibility, book on your own (instead of going through a travel agent).
Kerala has some pretty interesting places to stay: tea plantations, houseboats, spice plantations, remote hill top villages, Ashrams, Ayurvedic resorts. Go forth and explore!!
While vegetarian food is available, remember that Kerala is obviously big on sea food. More over meat is also big in there. So while booking places, specifically enquire what vegetarian options you have.
Traffic in big cities like Cochin, Trivandrum can be very heavy. Avoid traveling there in rush hours and weekends.
Home stays are excellent in Kerala. One should definitely go for it - because the people are good and you can get into the local culture. Do not forget to ask your host for a cookery class. The Kerala delicacies are awesome!
In the same breath, watch out for places that want to make a quick buck. For example we found "traditional Kathakali performances", "Jungle Safaris", "Adventure sports", etc. every nook and corner. For these activties look out for KTDC (Kerala Tourism Development Corporation) approved vendors. We got bitten in Thekkady on the jungle safari. It was not worth it at all.
We also got hit on the houseboat thinggie. Our driver mentioned we paid more than the usual and more importantly we could have gotten a better / more featured boathouse.
To get more authentic recommendations our suggestion is get a reliable local source. Particularly find someone reliable local in the travel business (a driver, travel agent, etc.) whom you can trust.
While our driver was very good and knowledgeable, he still took us to places (spice plantation, boating rides, shops, hotels) of his choice. But he was gracious enough to take us out of there when we rejected them. So be on your lookout accept only if you feel comfortable.
Overall we had a great trip in this jewel of the south! Go forth and enjoy!