BTW 2013: Week 2
Click on any of the photos for a bigger version
May 11, 2013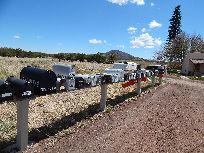 So many mail boxes!
We start off week two of the trip!!! A bright morning awaited us today. It was made brighter by our inn landlord - the old Gujarathi couple gave us Indian tea!!! With ginger et al. So it was great staying at this place. Our target today was to drive into the Grand Canyon National Park. One of the highlights of most people'e US visits. Before we entered GC we wanted to ensure that we firm up our accomodation so that we can stay for the sunset at GC (its really nice to see sunset sunrise over the GC). So before we entered the national park, we stopped at multiple places to search for accomodation. None of them seemed satisfactory. One of the places we saw outside of GC, had a number of mail boxes. Where were the houses that hosted these though? :) Anyway, let us head into Grand Canyon!
There is an IMAX show before getting into the park. This film - Hidden Secrets of Grand Canyon - is an awesome one to watch. We had a pizza and pasta lunch at a local place and further moved to the main visitor center. We went through multiple exhibits at the visitor center. After that we started exploring the park. On our first round we bumped into Bright Angel Lodge right on the rim of the canyon. Without much hopes, we went to ask if they had any vacancies. They had but the rooms were around $200!! We then asked them if there was anything else. And lo presto they came up with a hiker's room in a hostel. This room is meant for one person. But when we went in and looked at it, it was very spacious and beautiful. We jumped to it and it costed only $72. Imagine staying right on the rim of the canyon!! It was extremely good for us.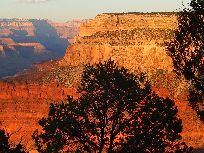 Beautiful sunset at GC
Beautiful sunset at GC
We took the best advantage of staying inside the park and went hiking along the rim. There was no pressure of returning back on time as we were staying inside GC itself. Our hike took about 3 miles all along the rim. Inside GC, there is a shuttle service that takes you around from point to point. You can get down at any point and get in at any point. You can also choose to hike from one point to another. We stopped at various points - the best being the last one called as Pima point. If you ask us this is the best place for a sunset. At the time of sunrise or sunset, the whole GC becomes golden yellow. There are so many shades of the golden colour - it is a mesmerizing site.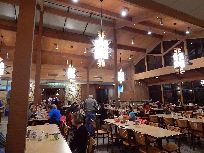 What a dinner - that too on GC!
After we got back, we went to fetch our car which was still parked at the visitor center. We then had another nice little surprise - the food court at the Maswik Lodge. This has excllent variety at good prices. We had a sumptuous dinner and walked back to our lodge. The temperature had dropped drastically as soon as the sun went down. It went almost close to 0 deg C that night. We look forward to tomorrow being another great day - waking up to a sunrise on the Grand Canyon!!
| | |
| --- | --- |
| Today was: | May 11th 2013 |
| Day Number: | 8 |
| Approximate Miles Travelled: | 250 |
| Region Travelling in: | Northern Arizona / Grand Canyon |
| Petrol: | $40 |
---
May 12, 2013
Cute and courageous sqirrel

Today was an exciting day. We were staying on the Grand Canyon rim!! We woke up early to catch the sunrise over the canyon. Unfortunately in these summer days the sunrise is too early. It was of course great being there, but the sun was a bit up in the sky. We got coffee from the lodge and spent some time watching the canyon. A courageous squirrel also kept watching us. All the National Parks in USA keep alerting the visitors not to feed these animals and people follow that religeously. This squirrel looked well fed and happy.

We had watched the food court at Maswik Lodge well the previous night. Now was our time to go stuff ourselves with breakfast there!! Well the food there was excellent and not expensive too. Think of staying within the Grand Canyon NP and getting good food. It was a grand meal we had and were all ready to take off. Well doze off would be better said :). Jokes apart we started with our drive eastward out of the national park.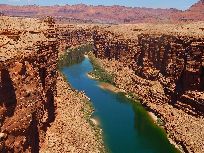 River and GC from the tower
The last part of the southern rim is the Desert View tower. It has some excellent views. A few words about the buildings in the GCNP here - long back they hired a lady called Mary Jane Colter to build all these structures. She has designed all of them including the ranch at the bottom of Grand Canyon (the Phantom Ranch). Hats off to her for designing such cool stuff in that age. They still stand testimony to her calibre. The Desert View tower is definitely a good visit. If you can make it here for sunrise then you will be rewarded with some excellent views.
After this view, we bade good bye to Grand Canyon. Well wait no its not going away so soon. We drove further east to Cameron and then headed northwards. We always wanted to go to the northern rim of GC. So we suddenly had this idea of trying to do it this time. The northern rim is on six miles away from the southern rim as the line of sight. However to access it by road its a 210 mile drove around. So we continued on route 89 and then 89A. We reached the town of Jacobs Lake around 12:30pm and the first thing we discovered was that route 67 to GCNP northern rim was still closed for winter :(. So we spread out our camping gear to cook lunch! We had a good sumptuous lunch.
GC view from North Rim
Monument Point - fewer cars here
After lunch Deepa got talking to the motel owner at Jacobs Lake and got some fundaes of an unpaved road that lead to the northern rim!!! Chalo. We got into the car and drove along the directions given. The drive was very nice, taking us on unpaved roads through some really rough but beautiful country. We had a great time getting lost and rediscovering our path. Eventually after a couple of hours we reached Monument point - our destination. We had yet another glimpse of GC this time from the northern side. The view itself is okay but the drive and the forests on the northern side are all worth it. This time we finally bade a real good bye to GCNP.
After that rough drive, we started back on our northward bound journey. We headed towards the town of Fedonia. All this time we hardly saw any souls on the road. We reached Fredonia around 7pm and stopped at the Grand Canyon Motel. It is manned (or rather womanned) by an old lady. She showed us the room and we took it for the night. We are still trying to guess which of the two was older the motel or the woman :). Some of the furniture in this motel is really rickety. Since we only had a night to spend we did not bother. The motel grounds outside however are very well kept and lively.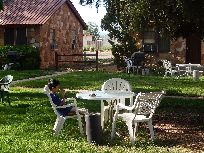 Arnav is enjoying cat watching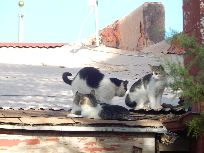 Cats cats everywhere ...
The biggest surprise of the motel was yet to come - we took a stroll on the grounds and lo presto, counted like twenty cats!!! All of them healthy and enjoying the environs. It looked like this motel is the local resort for all the cats in the county. They came in all sizes, shapes and colours. Arnav had a gala time photo graphing and chasing them. He also created a picture based game - Spot the Cat! It was a fun way to end the day.
| | |
| --- | --- |
| Today was: | May 12th 2013 |
| Day Number: | 9 |
| Approximate Miles Travelled: | 300 |
| Region Travelling in: | Northern Arizona / Grand Canyon |
| Petrol: | $0 |
---
May 13, 2013
We woke up in the morning and counted fifteen more cats :). Such was the fun. Eventually we had some basic home cooked breakfast and headed towards our next destination - the Zion National Park. On the way we stopped at the town of Kanab for some supplies. We wanted to decide on a place to stay before we went to Zion. That way we could spend as much time as we wanted in ZNP. So we drove up to the towns of Mt Carmel and Orderville. Eventually we settled in the Mt Carmel RV park and motel. Its a nice clean place. By the way we stepped over into the state of Utah - so put your clocks one hour ahead. Arizona does not observe day light savings. So we did not have to do it so far.
We then drove to ZNP. A few words about Zion. It is one of the more accessible canyons in the state of Utah. It has some of the most dramatic shapes and colours out there. No wonder it is the top ten most visited National Parks in the US. Because of all the rush, the park authorities run shuttles in the park and private vehicles are not allowed. The shuttles are very convenient and extremely frequent. They take you to the most important scenic points. However the best parts of the park are usually accessible only by foot via strenous hikes. And most of it is dry desert like heat (35+ degrees centigrade).
After we reached Zion we were lucky that we got parking in the visitor center (otherwise you need to park in the next door town of Springdale). We took the shuttle to reach the Zion lodge for lunch first. After lunch we had a nice nap under the cottonwood trees (inspite of it being spring and there being a lot of cottonwood seeds in the air). The nap was much needed :).
Weeping Rock
Deepa and Ajay at Virgin River
After nap we took to exploring the park. We started with all the major points - Cout of patriarchs, Weeping rock and Big bend. All of these are very scenic places, at some places one needs to do small hikes. However the best of them all was what is called as the Temple of Shinwa. One can do an easy 2 mile hike from here along the Virgin river that sculpts the Zion Canyon. The river is accessible and you can actually wade through it. The hike is very pleasant since the canyon walls shade you from the sun. All in all its very enjoyable.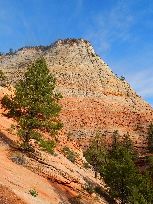 Checkerboard mesa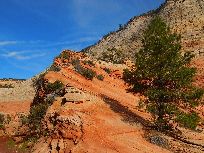 The red shades at Zion





After the pleasant but exhausting experiences at Zion, we drove back to our motel in Mt Carmel. This drive (called as the Zion scenic drive) takes us through the eastern part of ZNP. And this too is extremely beautiful. Here is where you find the Checkerboard Mesa and other such sights. Overall we came back to the motel with some really pleasant visuals - we talked about them when we sat with a hot coffee outside our room. The room and the hotel was very comfortable. We had a good dinner cooked at the picnic table outside the hotel and hit the bed.
| | |
| --- | --- |
| Today was: | May 13th 2013 |
| Day Number: | 10 |
| Approximate Miles Travelled: | 150 |
| Region Travelling in: | Zion National Park, UT |
| Petrol: | $42 |
---
May 14, 2013
Pretty picket fence around the motel
Today was a slow day. We delibrately wanted to start a little later - needed to catch up on sleep. We did not plan to do anything strenous for the day. Also since we liked the cabin at Mt Carmel RV park, we decided to stay another day. So we picked nice drive for the day and planned to come back early. Breakfast was uppit made from our pre-roasted home made mix. We spiced it up with peanut chutney powder :). We also added some fresh strawberries to the breakfast!
Winding red roads among red canyons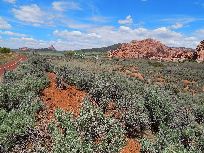 The roads in Utah are red too
We first drove down the the Zion History Museum. We wanted to catch up on the 20 minute movie exhibit. This one is an excellent watch and we strongly recommend people seeing it. We also attended a Ranger talk at the same site. We learnt a lot about how all the canyons are carved out of the Colorado plateau in the US. Natural minerals present in the rocks add colour to the mix. It is amazing how nature has been sculpting some beautiful pieces - we can watch it at work in all these areas.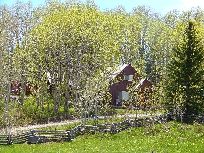 What a pretty setting!
Another picturesque setting
After the museum we wanted to do the Kolob Terrace Road drive. We researched this on the internet and found out that although a lot of people come to Zion they do not do this drive whereas it takes us to some of the beautiful spots - the good thing about the drive is we see the canyons from the top. We found the turnoff to the road easily in the town of Virgin after Zion National Park. This road leads to some amazing views. It goes along the top terrace edge of Zion. The first half of the drive is simply riveting!!
We had packed lunch for the drive since we knew we would not find any eateries along the way. We found a nice shady spot where we could park and have our sandwiches. A cool breeze made it even more comfortable - a few buzzing honey bees kept us company. They thought Arnav was the sweet they were going after :). After lunch we continued on the drive. It lead to two spots - the Kolob reservior and the Lava View Point. Both of these are not anything to write home about. However the drives themselves are excellent. So its not the ends that are important, but the enjoyment is along the way.
After this drive we drove back to hotel (the drive goes through Zion once again). We found that the Checkerboard Mesa in the evening has a different hue - it is yet again a pretty sight. Zion (for that matter most of the state of Utah) is a tourist's dream come true. On our way back another interesting thing happened. In the morning when we picked up our food from a Subway restaurant, we had forgotten to get some of the items we had ordered. When we mentioned this to the clerk behind the counterm without asking us for any details he refunded us $2!!! It is amazing how empowered these employees can be. How could this clerk refund us $2 without consulting any of his seniors? Sounds incredible in our culture... Anyway we came home for a quiet evening. We cooked dinner as usual on our camping stove.
| | |
| --- | --- |
| Today was: | May 14th 2013 |
| Day Number: | 11 |
| Approximate Miles Travelled: | 150 |
| Region Travelling in: | Zion National Park, UT |
| Petrol: | $0 |
---
May 15, 2013
We finally big good bye to our cabin in Mt Carmel. It was indeed a great place to stay. Today another great landmark awaited us - the Bryce Canyon. Since many people may not know about this, we recommend people googling it and reading / seeing photos. Bryce is a small but wonderous place sculpted by nature out of red sandstone. The beauty of Bryce is better appreciated since it is very accessible and one can walk through its Hoodoos up close. We looked earnestly forward for today's visit.
Bryce NP is preceeded by a place called as Red Canyon. This place is a good starting point for the bigger park. Once we reached Bryce National Park, as usual we first headed to the visitor center and saw the orientation movie. This movie is also another great piece. It shows some really nice photo angles and also has good knowledge content. After the film, we proceeded to do the Navajo loop hike. This is considered as the world's most beautiful three miles any human can walk!!! The hike takes us through the heart of formations inside Bryce. We can never talk enough about this place :).
After this hike we proceeded to see a couple of chosen view points. A short 10 mile drive took us to Rainbow and Natural Bridge view points. Our drive was very nice (Deepa was irked by a slow driver though - he never drove above 25 :). We took tons of photos - hope to upload them here soon.
Entry into Red Canyon
Beautiful Bryce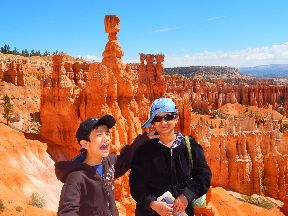 Mom - I will turn you into a Hoodoo!
Deepa n Ajay enjoying the heavenly feeling
Impeccable red colours of Bryce
After we finished the key points in Bryce (that way its a small park), we went out to yet another Subway restaurant outside the park for lunch. We discovered that this place is costlier than the others in the chain by at least a couple of bucks for each of the items. After lunch we then starting driving one of Utah's most scenic byways - called as Route 12. This route snakes through more weird and brilliantly coloured formations. We reached the town of Escalante around 6pm after a few hours drive. And lo presto every motel looked full :). The one that had free rooms, was charging a lot. After that we ended up in an RV park that had one last cabin left. We were confused whether to take it or not when the decision was made for us. Arnav noticed a nice fluffy white cat around there. He immediately said we got to stay here!!! We later learnt that the cat was named Oscar, he liked to be petted around.
Our cabin at Escalante
Eventually we thought our decision was a good one. The cabin we took turned out to be a good one. Pretty comfortable. The only complaint was that the shared restrooms / bathrooms complex was a couple of buildings away. Otherwise we had a great time. The environment there also was a lot friendlier than motels. Different kinds of people looking to camp, in their RVs and all. We cooked like usual (maggie noodles with vegetables and rice was the menu). We also did our weekly laundry in there. Finally were ready to crash for the night.
| | |
| --- | --- |
| Today was: | May 15th 2013 |
| Day Number: | 12 |
| Approximate Miles Travelled: | 250 |
| Region Travelling in: | Bryce National Park, UT |
| Petrol: | $0 |
---
May 16, 2013
Awesome offroad driving experience
We woke up to a bright morning in our excellent cabin. We wanted to start early again as we had a long day ahead. We cooked our breakfast - we were all for cooking since we were in a camping place - oats upma was the dish. Arnav had egg and cheese. We packed up and hit the road around 8:30am. We drove eastwards and reached a town called Boulder. Our fun started here at Boulder - we took a gravel unpaved road into the Grand Staircase national monument. This is a vast several thousand acres of wilderness served by some such snaky unpaved roads. The road looked very promising from the start. Soon it took us through a place called Slot Canyon. The drive as expected was through dirt roads, but the views were amazing. We had a lot of fun - ours was the only car one could see for as far as one could see. Wilderness and rough landscape everywhere. US is a great place to seek solitude!!

A pretty bridge on Colorado river
The road becomes rougher and wilder after we cross over from the Grand Staircase into the Capitol Reef National Monument. At several places we saw hiker's vehicles parked. It is amazing that people drive down to such remote places and hike further out. It takes planning and endurance - obviously not for the faint hearted. At one place the road goes through some really steep gradient and hair pin turns. You could literally see five or six road paths stacked upon each other in a short distance. The Ghat is extremely packed. Driving this and going through some unearthly landscape was a surreal experience.
Arnav posing in front of Glen Canyon
Eventually we hit our first destination for the day - the Glen Canyon. This canyon started filling up with water once the Glen dam was built on the Colorado river. It is said that the river took seventeen years to fill up the canyon to the levels that we see today. The water is a shade of darker blue and the canyon a shade of darker orange. Unfortunately to explore more of the Glen Canyon, one needs to be in a boat. We hence took the views only to the boat launch ramp at a town called Bullfrog. We had a nice time seeing locals launch their boats from their road trailers into the lake (or vice versa, take the boat from the lake onto the road). Its a nice skill doing this, but in the US everying sounds so easy :).
After Glen Canyon, we drove further east through some more interesting landscape and reached the town of Monticello. We pitched up for th enight here since we got another clean and good motel. Owned by yet another Gujarathi gentleman. We also did some grocery and for the first time on the trip washed our car (it was caked in dust). There are interesting self pay and use wash stations where you drive your car in for a wash. Dinner was a mexican burrito created out multi-grain bread - another interesting creation from Deepa - with Sweet Corn veg soup :). Enough filling for the night - brings about the end of day 13. See you tomorrow.
| | |
| --- | --- |
| Today was: | May 16th 2013 |
| Day Number: | 13 |
| Approximate Miles Travelled: | 300 |
| Region Travelling in: | Glen National Recreation Area and Escalante Grand Staircase and Capitol Reef, UT |
| Petrol: | $48 |
---
May 17, 2013
Our start from Monticello was quick and non-fussy. We had breakfast in the room and were headed to Arches National Park. Its worth writing a bit about ANP. This park is located in north eastern Utah and not that big area wise. the drive from one end to the other is about 15 miles. The interesting thing about it however is that in this small area there are more than 2000 natural arches formed. The arches get formed by natural forces of errosion. Many of these arches are very accessible by foot / drive. They come in all sizes and shapes - some of them very small, may be a foot high and others very large going up to 5 stories in height.
Balancing Rock
More formations in Arches
The first thing we did - as we do in most national parks - is watch the orientation movie. After that we went around the park on a drive. Along the drive one sees many interesting places. Of these the Court House towers and the Balancing Rock are fun to see. In many of the natural formations we could see many Ganapati like shapes. If this were in India it would have become Ganapati National Park in no time :). Our first big hike today was to go to the Windows loop. This walk takes us along three beautiful arches.
After that it was lunch time. We had a nice little picnic at the Devil's Garden area. Unlike many other parks, ANP does not have any restaurants at all. We cooked maggie with veggies. It was a windy day, but still we could find some techniques to get our stove going. After the nice lunch we snored off a siesta for some time.
The big attraction for the day was the Delicate Arch. This arch is one of the most famous natural formation - you are likely to see it on the covers of the most travel books in the US. The arch is accessible via a strenous 1.5 miles hike. We started on it around 2pm since the weather was cloudy and the cold wind made it very pleasant. Otherwise our plan was to go around sun down. The hike takes you through wild country and steadily climbing a mountain. The final part of the hike is pretty treacherous - walking along narrows paths on the hill side. The Delicate Arch then suddenly opens up into view. The wind gusts at the top were really heavy, pushing us against the wall. Here is where Ajay lost his dear hat :). It was our gift left at Delicate Arch. Any amount of pictures of it can do it any justice. There were like 20-30 people there enjoying the arch and the overall feel. It was just awesome. The hike back down was uneventful.
It was a Oh My God hike!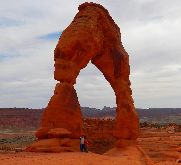 It was worth it - 5Km hike
Another view of Delicate Arch
After the hike down, we drove back out of ANP and then headed to a town called Green River. We stayed in a local motel out there for the night.
| | |
| --- | --- |
| Today was: | May 17th 2013 |
| Day Number: | 14 |
| Approximate Miles Travelled: | 250 |
| Region Travelling in: | Arches National Park, UT |
| Petrol: | $0 |
---