BTW 2013: Week 3
Click on any of the photos for a bigger version
May 18, 2013
We started from Green River. Was mostly a quiet day for us. We replenished our groceries and supplies at Walmart. We then settled down at Provo a town further north in Utah.
When we entered Provo - it was a nice surprise for us. Provo is a university town - Brigham Young University is up here. Like other university towns, it has nice buildings and a very young feel about it. When we entered the town, there was a hawaian festival going on. Lots of food stalls, clothes stalls and dance stages. Overall a lot of fun on the streets. On the dance stage, there were some kids performing the typical Hawaiian fire dance. It was fun to watch.
Theres lot of students on the streets of Provo. There was a track and field meet going on in the local stadium. Lots of noise and fun. We settled down into a motel next to the stadium.
| | |
| --- | --- |
| Today was: | May 18th 2013 |
| Day Number: | 15 |
| Approximate Miles Travelled: | 100 |
| Region Travelling in: | Northern Utah |
| Petrol: | $54 |
---
May 19, 2013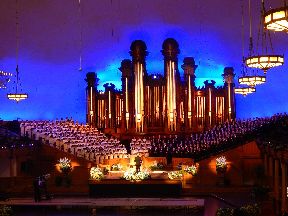 The Choir at the Tabernacle
Look at the impressive organ in the background
It was a special day for us today!! The hotel where we stayed had breakfast for us today. That was good for us since we wanted to start early. Our plan today was to visit a place called the Temple Square in Salt Lake City. Check it out at www.visittemplesquare.com. This is the home of the much famed Tabernacle Choir. The Temple Square hosts a church that has been at Salt Lake City for a very long time. The Choir there has been very popular and they have been broadcasting their performance every Sunday since 1929. This Sunday we went to witness this broadcast live.
Church at the Temple Square
After a 45 minute drive to SLC, we were seated in the auditorium (called the Tabernacle) around 9am. The auditorium was almost full (seating about 4000 people) and by 915am they closed the doors. The Choir performance went live exactly at 930am. The performance was fabulous and very powerful. We were really glad that we could make it to this performance. There were like 200 odd ladies and gentlemen in the performance. They were accompanied by the church organist. The organ in this church is a three storied apparatus - it contains more than 7000 pipes and produces fantastic music. In all it was a moving experience.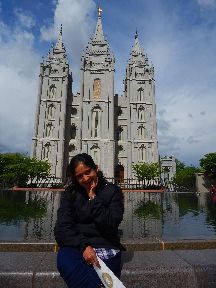 Deepa strikes a pose in front of the church
After the choir we went round the Temple Square gardens. Its a real peaceful place and is worth the visit. Then we stepped across the street into the conference center. This building now houses the new version of the Tabernacle - a new auditorium that hosts close to 21,000 people!! The auditorium is built in a fantastic architecture - such that there are no pillars used in the structure. It is a canti-lever structure, every single person in the audience will have an unobstructed view. The rest of the building is also kept very well, including a nice large terrace. One could see a lot of SLC from the terrace. The auditorium is again, worth a visit.
This auditorium seats 21,000 people!!!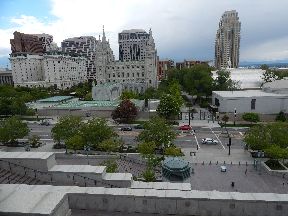 The Temple Square from above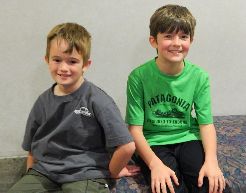 We met these two cute brothers in the JSMB building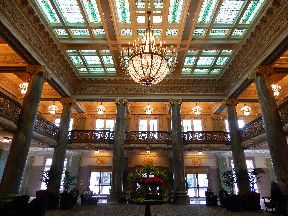 The JSMB (Joeseph Smith Memorial Building)
After the Temple Square, we had lunch and headed west to Bonneville Salt Plains. Its a bit of a drive from SLC. Eventually when we got there, it was a surreal experience. The salt plains were formed long back when the Bonneville sea / lake evaporated and left all its salt here. So today we have more than 44,000 acres of white salt plains!!! You get the first experience of this place about 70 miles west of SLC in a rest area on I-80. The salt plains are easily accessible from the rest area. When we got there, all the salt plains were covered by water. So it was even more interesting. We got our shoes off and walked all over. When we got out our feet were all white - caked in salt :). It was fun being there. After that we then drove further interior where the land racing records happen. Unfortunately because of the rain water we could not drive on the plains there, but it was a fun experience to see white land all around you. The best land speed record so far measured here in Bonneville flats is 622 miles per hour (or 970 kilometers per hour). The salt flats here give an unobstructed plain surface to do these kinds of measurements. The races happen in Aug / Sep of every year.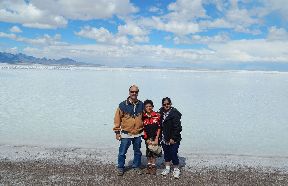 Bonneville Salt Flats are an amazing place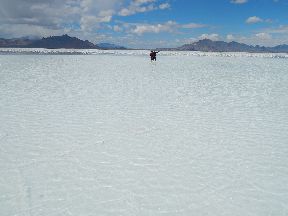 A sea of white is all that you see!!
After the salt flats we drove down into interior Nevada / Utah boundary to stay at another middle of nowhere place called Montello :).
| | |
| --- | --- |
| Today was: | May 19th 2013 |
| Day Number: | 16 |
| Approximate Miles Travelled: | 250 |
| Region Travelling in: | Salt Lake City, UT |
| Petrol: | $46 |
---
May 20, 2013
Wake up in Montello. Uppit for breakfast, Craters of the Moon, Drive to West Yellowstone, Best hotel so far - City Center.
Today is mostly a driving day. We wake up in the motel in the middle of nowhere - a town we mentioned yesterday called Montello. We made Uppit for breakfast and got behind the wheel on the lonely roads of Utah. On our way to our next destination, we wanted to see another national landmark called the Craters of the Moon.
After a couple of hours of driving we reached the state of Idaho. It took us by surprise. It has some of the most beautiful farmland and is surrounded at many places by tall snow capped mountains. Driving through these farm lands was beautiful - at many places we saw water sprinklers doing their job of watering the farms. We could se wheat and potatoes in the farms there...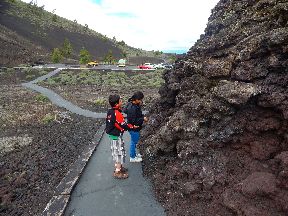 Arnav and Deepa check out the volcanic rocks at
the Craters of the Moon
We shopped a bit on the road and eventually we reached Craters of the Moon national monument around 1:30pm. This is a nice small park - they have preserved a volcanic landscape out here. the volcano here must have errupted a couple of thousand years ago - the land is all black. The soil, rocks, everything still looks fresh from an erruption. There are some interesting formations. Since we had seen a live volcano earlier (Mt Kiluwea in Hawaii), we were not very impressed - we mean this is good, but certainly on a much smaller scale. We went through some of the interesting points and continued our journey.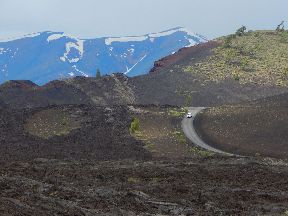 Craters of the Moon create an erie landscape
On our drive we saw more of the beautiful Idaho - eventually reaching the town of West Yellowstone, next to the famed national park. Surprisingly we had a few problems finding accomodation here. First, many of the places were still opening for the season. So half of them were not ready or closed. Then in the ones that were open the prices did not seem reasonable. Eventually we settled for a motel called CityCenter. It turned out to be a beautiful place. The people behind the counters were very nice to talk to. The room turned out to be very clean. To add to our surprise they had a great kitchen next doors. We hopped out to the next door grocery store (open until 10pm!!) and got some supplies. We had a great dinner.
Beautiful Idaho - spot near West Yellowstone
| | |
| --- | --- |
| Today was: | May 20th 2013 |
| Day Number: | 17 |
| Approximate Miles Travelled: | 300 |
| Region Travelling in: | Interior Idaho |
| Petrol: | $62 |
---
May 21, 2013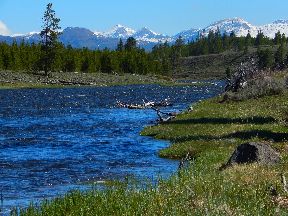 Yellowstone National Park. Need we say any more?
Today is a big day. After all these travel days, we were looking forward to this one - since we were to enter the Yellowstone National Park today. The YNP is a very scenic place to start with, particularly in spring. Life is abound, the rivers are gushing with the snow melt, while the mountains still have snow caps. Further YNP sits on top of an active volcano!!! The water on the earth's surface seeps into the ground and meets the magma of this volcano. This water gets heated up to much beyond the boiling point and converts to super heated steam. The steam and hot water then rushes back up to the surface through various points. We see this steam and water combination in the form of hot springs, geysers, mud pots and so on. This miraculous phenomena is very unique to YNP - it probably has the largest collection of such geological entities. At YNP these combine with natural beauty to form a great national park.
Bisons and other wildlife roam freely in YNP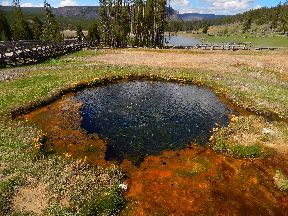 Boiling water springs, a common sight here
We had a great breakfast of Pohe at the Citycenter hotel. They have some excellent rooms and very good kitchen facilities. We entered YNP through the west enterance. We stumbled upon great views of snow capped mountains and the madison river right away. After that we went to the Norris geyser basin. Oh boy this was a great experience - we saw so many springs and boiling mud pots it was facinating. We were stopping our car, hiking and taking in all this stuff like crazy. After this basin, the next big thing we saw was a big herd of bisons grazing in the meadows. There were a lot of calves and mothers there. The backdrop of glistening rivers, snow capped mountains and crisp green foliage was perfect.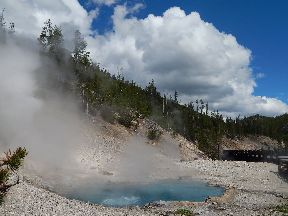 The emerald colour to the boiling
water in the springs comes from the rock minerals
Meadows like these mesmerize you in YNP
Our lunch stop today was at the Norris camp ground where we had an improvised burrito - take wheat bread, smear with refried beans, add lettuce, salsa and sour cream. There you have it a new type of burrito. Deepa discovered this on this trip :). Unfortunately it was windy and cold - so we could not set up our stove. We ate the burritos cold. After that we drove up the Canyon Village in YNP. This part of the park is again a huge landmark. The yellowstone river carves a canyon out of a mountain. The river goes through two very impressive falls. We hiked to both of these - due to the spring snow melt there was a lot of water and also it was very turbulent. A lot of snow was still seen on the road sides and other places. We took an interesing side drive to a place called Virginia Cascades. Very beautiful indeed.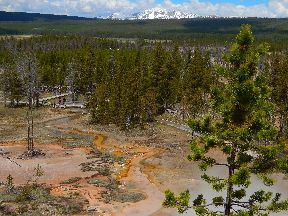 The hot water creates interesting patterns
Finally after Canyon Village we drove around the Yellowstone lake to get to our lodge. This lake is huge - its probably the largest high altitude lake in the world. Its serene, surrounded by mountains and has emerald blue waters. The road runs for miles around this lake. Every turning is a great view point. For the night we were booked in the Old Faithful lodge. Old Faithful as you might know is the most dependable (in terms of its timing) geyser in the world - it errupts every 80 minutes or so. In some of its erruptions the water is thrown up to a height of almost three stories. So it is a land mark indeed. And believe it or not we were booked in the lodge next to it. We reached the lodge around 8pm just in time for an erruption. After watching it and having dinner at the local cafeteria, we hit the sack in the hiker's cabin at the lodge.
The canyon carved by the Yellowstone river
Sulphur content gives it tThe yellow colour
The majestic lower falls
Boiling sulphur cauldron gives it an erie feeling
And now the Yellowstone lake
Ones eyes just cannot have enough
| | |
| --- | --- |
| Today was: | May 21st 2013 |
| Day Number: | 18 |
| Approximate Miles Travelled: | 150 |
| Region Travelling in: | Yellowstone National Park, WY |
| Petrol: | $0 |
---
May 22, 2013
Waking up to Old Faithful errupting!
Once in a lifetime achievement
It is a wonderful experience to stay inside of any of the national parks in the US. It is even more glorified if it is Yellowstone National Park. We were indeed lucky to get to do that. We had gotten a hiker's cabin overlooking the Old Faithful Geyser. Oh what a feeling!. We woke up and had a good breakfast of Uppit and Shenga Chutney :). Of course downed it with coffee. What was the next thing we did? Of course we watched Old Faithful errupt yet again. It took a bit of time but was at it again as usual. After the geyser, we roamed around in the well appointed visitor center out here. We also watched the Yellowstone orientation movie and several of the interesting exhibits in the old faithful visitor center. One of things we enquired at the visitor center was to how best to see wildlife in the park...
Another vista of the faithful
After the visitor center we started driving northwards towards Madison and Mammoth Springs. The first stop was at Biscuit Basin. We saw a few boiling springs there. Our next stop was a the Grand Prismatic spring - this is probably one of the popular landmarks from Yellowstone. The spring is huge and spews out several litres of hot water out. There are lot of interestingly coloured formations around this spring. This spectacle is best photographed from the air due to its size. On today we had very fast cold winds around there (was almost 20-25 kmph speed). Due to these conditions the springs were spewing out large amounts of water vapour into the air. We could barely see each other when walking through this warm gust of steam... It was also hard to see the water surface on most of the springs. After the Grand Prismatic we stopped at the Palette Springs and Fountain Paint Pots. The latter is a lot of coloured mud boiling in hot water. It seems like a large paint pot with fountains jumping out of them now and then. Its an interesting spectacle!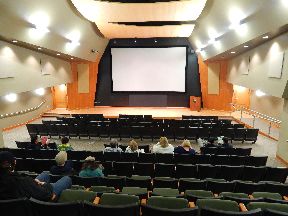 A typical theatre at the National Park Service
Our next stop was to go to Mammoth Springs. However we had a very interesting experience in between - as we drove along the curvy road, we suddenly noticed that the car ahead of us came to a complete halt. We did like wise behind it. In a couple of minutes a herd of wild bisons came charging down the road. Looking at the herd of these huge beasts all of us were petrified!! (Arnav's word). The only parts of our body moving were our eyes watching this herd. Some of the beasts were like a couple of feet outside car - one looked menacingly at us. We were not sure if it wanted to bump its large head into our car sides :). We turned down the music volume - one can never be sure if they liked Kannada songs since that was what we were playing at that time. After the herd passed we started breathing again. Arnav asked "Dad, what would have happened if they had rammed us?". Ajay's reply "Well, the car would have been crumpled for sure. But beyond that we are not sure because we dont know if the Bisons carry third party insurance :)".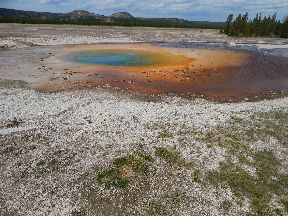 More hot springs with unearthly colors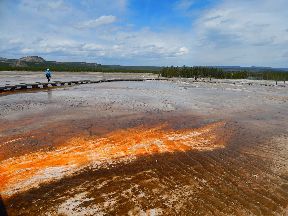 The world famous Grand Prismatic spring
This performance was repeated two more times down the road. The second and third times we had our wits about us and took some pictures. It was fun watching these beasts. We reflected back on our question at the visitor's center - the ranger could not have given us this answer: you just have to be lucky!! The next stop - Mammoth Springs - was also our lunch stop. We went to the local cafeteria to get some veggie burgers. After a quick siesta, we went hiking around the springs. The Mammoth Springs are very different from the others in the park. They have formed large multi-coloured staircases around themselves... They looked very much like the miniature fountains one finds in Utsav shopping festivals in Pune - only that these springs are like a million times bigger. So hiking around them is fun.
After this experience it was time for us to bid good bye to Yellowstone NP. We drove out via the North exit. This leads through some beautiful mountains in Montana. We further took up the interstate 90 going westwards (it was spectacular with the spring season abound). We settled down in the town of Bozeman in Montana.
The last of the marvels at Yellowstone - the Mammoth Springs
| | |
| --- | --- |
| Today was: | May 22nd 2013 |
| Day Number: | 19 |
| Approximate Miles Travelled: | 200 |
| Region Travelling in: | Yellowstone National Park and into Montana |
| Petrol: | $0 |
---
May 23, 2013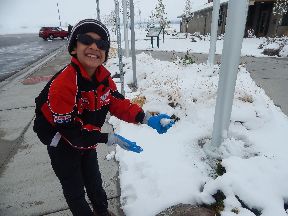 Can you believe it?? Fresh snow!!!
At Bozeman, we had stayed at a place called TLC Inn. They had a continental breakfast in the morning. Today was primarily a driving day and we did not expect much, however God wished otherwise. We hit Interstate 90 early in the morning and were doing like 75 miles an hour. Our first target was to reach a town called Missoula in Montana. The Montana country side continued to be beautiful. Around 11am I90 hit the Rocky mountains. We were suddenly hit by a snow storm. Fresh snow was still falling on the road and the surrounding country was transformed into a vast winter wonderland. Arnav had not seen anything like this. Even we had not seen so much snow - that too fresh falling - in a long time. So the drive suddenly became very interesting indeed. We added spice to it by getting off the highway to get some coffee and play in the fresh snow. Arnav was all over us with snow balls and the like (he was basically reliving his Calvin comics). So it turned out to be a fantastic drive.
Cracker Barrel restaurant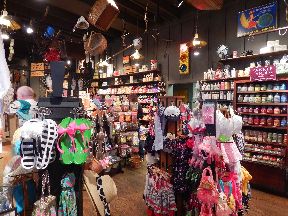 Another view of the restaurant
We reached Missoula around 1pm. We had to visit the local Firestone dealer to get our oil changed. It took about 45 minutes. Once we were done with the oil change, we had another great experience - we bumped into a Cracker Barrel restaurant. Again we had not seen one in ages. We both looked back fondly on to our Cracker Barrel experiences. So without hesitation we jumped into the restaurant for yet another great lunch experience. We ate like crazy there and came out stuffed. So a day that was supposed to be a driving day turned out to be a day of experiences :).
Behold Montanahhhh the beautiful! Flathead lake
Another view of the lake
After that we then left I90 and headed north towards Glacier National Park. We planned to get close to it and put up for the night. Since we had driven to Missoula going to the west side made sense. So we drove through towns like Kalispell, Columbia Falls, etc. Eventually we reached a town called Hungry Horse - not sure which horse there was hungry :). But we also stumbled upon the motel Hungry Horse - kind of an old establishment run by one single gentleman. He was kind enough to show us a room that we liked. We pitched for the day there.
Since we still had some time for the day, we walked to the local grocery store - about half a mile away. It was a great evening, bright and sunny around 7:30pm :). We did a bit of fresh fruits and vegetable shopping. Though we found that the people - especially drivers - around Kalispell not all that friendly, the locals in the smaller towns were very much so. Eventually we cooked Pasta with fresh vegetables for the night and hit the sack.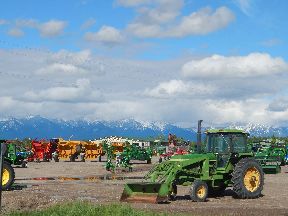 Spring in MT is farming time
| | |
| --- | --- |
| Today was: | May 23rd 2013 |
| Day Number: | 20 |
| Approximate Miles Travelled: | 350 |
| Region Travelling in: | Interior Motana |
| Petrol: | $96 |
---
May 24, 2013
Spring brings large blooms to the meadows
We woke up a bit late and cold in the Hungry Horse motel - primarily because it had an old style gas fired heater. It either got very hot or very cold. We could not master it :). Anyway we were on the road like 10am. Our first target today was to go to West Glacier. This is a town that borders the Glacier National Park on the west side.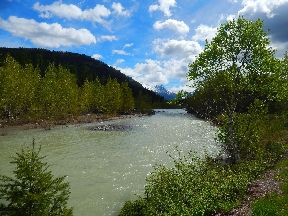 Glacier National Park!
There is a snow fed river round every corner
Glacier National Park is yet another large area of wilderness. It is on the US-Canada border in Montana and is marked as such so as to protect some of the glaciers that are found in this region. These days Glaciers are becoming a rarity since most of them are melting away. We had seen many glaciers in Alaska earlier but we did not know what to expect from this park. So we went out to the visitor center first. This park is pretty much closed until June at the least. Since its still late May, we were lucky to get to see anything at all. The ranger at the visitor center was extremely helpful in getting us set up with some of the basic stuff.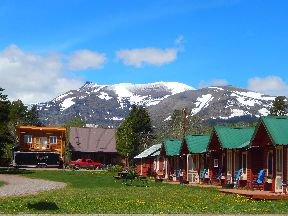 Chalets at the base of the moutains, anyone??
One of the biggest attractions in the GNP is the Going to the Sun road. Unfortunately this was only partially open. So we drove the west part first, found a couple of scenic spots. Eventually we turned back and took Route 2 outside the GNP to reach the eastern side. On either sides of the NP, there are a lot of small towns that cater to the visiting folks. There are a lot of motels, bakeries, shops, etc that is surprising. Even within the park too, there are a lot of lodges and places to do. But however all of these open much later than May. The drive on Rt 2 was fantastic - going through gorges, snaking along with the Flathead river and the accompanying railroad. The day had turned gorgeous, blue skies, fluffy clouds were the norm. We found excellent vistas with snow covered mountains and flower covered meadows. Most of the places have either rivers or large lakes to surround the mountains (no wonder all the snow melts and forms these water bodies). Oh it was an excellent sight and we enjoyed the drive a lot.
Running Eagle falls, Glacier National Park.
Deepa and Arnav huddle together for warmth :)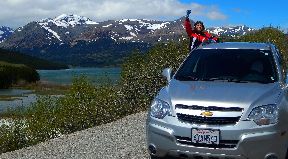 On the way back from Two Medice
Our first point of interest on the eastern side was called Two Medicine. At this point we drove into the GNP and parked at a trail head. We did the short hike to the Running Eagle water falls. It was a very nice view, however though the day was bright and sunny the wind was cold. So we could not stay at the site for long. The falls is named after an American Indian lady who is supposed to be very popular. The approach road to the Running Eagle falls also is very nice.
The next point on our list was St Mary - the place where the eastern visitor center is located (though closed when we went). Here is where we stopped for our lunch. We set up a small picnic, cooked more pasta and had it with bread. It was a miracle that we could cook on such a windy day :). After lunch we drove to more view points near St Mary - the view from Jackson Glacier being a good one. However since the Going to the Sun road was closed we could not do much.
School in the middle of nowhere?
Come to think of it the outdoors
is a wide open school. Join in!!
The next and the last point of the day was called Many Glacier. This point is actually the end point where a large lodge and inn are located. These are located amidst towering mountains and are on the banks of a large emerald coloured lake. It was yet another nice photo-place. When we reached there, Arnav saw more snow and immediately got to work. Pitched everyone with snow balls!! The fight was fun. The views at Many Glacier were good too. However we felt that we do not see too many glaciers at GNP unless the main road is completely open. So in that sense this national park left us with something more to come back for. We guess June - Sep would be better times to visit this.
Wild Mustangs are a common sight in remote Montana
The final highlight at the park was very interesting. We were on our way out of the park, when we noticed there was a small calf of some animal on the road. We got close to it and stopped the car to get a better look. Then suddenly out of nowhere a large female Moose landed in front of us - apparently to protect her little baby. Only after we saw this giant did we realize that it was a Moose calf. The size of the female literally blew us away - her eyes were at our level. We were sitting in the SUV and were possibly about 5-6 feet high. Seeing a 5-6 feet high four legged animal is some experience. For a few seconds we looked at her and she looked at us - each of us not sure what the other party would do. Since she was in protective mood, we did not budge. She looked at the car and then at her calf and eventually led her calf away to the side. We were so petrified that we did not even take a picture. Once we started breathing we drove on remorsefully. We were fortunate that the Moose lady's husband and other relatives were not around!!
After that hair raising experience, we drove on out of the NP. Though the park left us with more to desire, we were filled with excellent views of so many snow clad mountains and vistas... So it was worth it. We got out of the NP and guess what it started pouring like crazy!! So even God was with us in this NP too :). We drove back to the town of Kalispell and chose a Super 8 motel to rest our tired souls.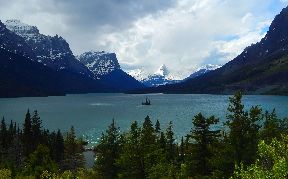 Wild goose island at Glacier National Park
Many Glaciers, Glacier NP
Another view of Many Glaciers
| | |
| --- | --- |
| Today was: | May 24th 2013 |
| Day Number: | 21 |
| Approximate Miles Travelled: | 250 |
| Region Travelling in: | Glacier National Park, Motana |
| Petrol: | $0 |
---